"Regeneration" is poised to be one of the main keywords of 2023. Within the rise of the regenerative economy, regenerative hospitality is predicted to have a dramatic impact on the industry. We hear from Dr Alessandro Inversini, Associate Professor in Marketing at EHL Hospitality Business School, who discusses his research and findings in the field of Regenerative Hospitality.
Thanks to a fruitful upcoming collaboration between EHL Hospitality Business School and the Institute of Tourism of HES-SO Valais/Wallis, we are conducting in-depth research on this paradigm shift. We are witnessing the rise of regenerative hospitality and we are predicting its possible expansion from luxury boutique hotels to mainstream properties.
What is Regenerative Hospitality?
The concept of regenerative hospitality is a relatively new trend in the hospitality field and it can be understood as an aspirational business approach that focuses on creating net-positive impact on the environment, the community and wider society. Regenerative hospitality focuses on sustainability and environmental responsibility, prioritizing not only the protection and preservation of the natural environment and the local ecosystem but also an active contribution to the regeneration of it.
This must be done in collaboration with local communities where regenerative hotels try to build mutually beneficial relationships focusing, for example, on sourcing local food, providing employment opportunities for local community members, and supporting local businesses and local causes. In addition, regenerative hotels take a holistic approach to wellness, meaning that they strive to co-create relevant, and possibly transformative, experiences for the guests, orchestrating elements of the natural ecosystem and the wider society towards socio-cultural-psychological wellbeing.
Regenerative hospitality is committed to transparency and accountability; regenerative hoteliers are driven by the aspiration to do good in the place and for the people around them. These impactful organizations foster a local and qualitative approach to the specific ecosystem they are placed in and constantly work on maximizing their net-positive impact at all levels.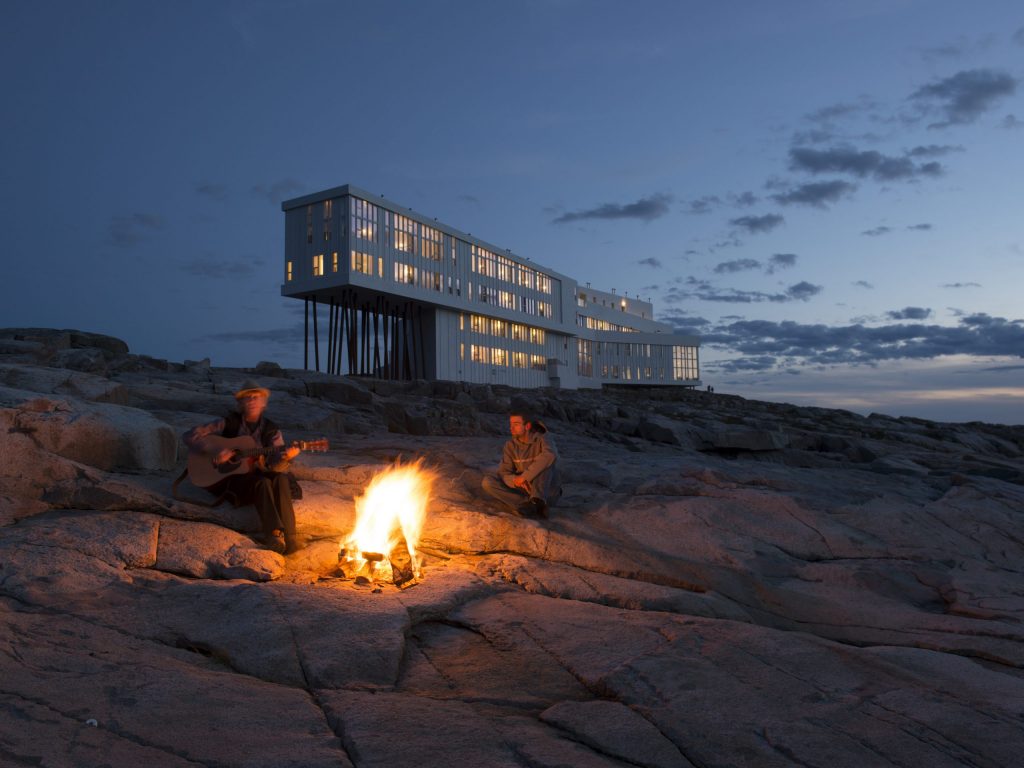 Inward-Outward Regeneration
One of the main aspects that stands out in Regenerative Hospitality is the inward-outward nature of the phenomenon that is also often reflected in a hotel's business model and positioning.
Looking Outward
Regenerative properties feel entrusted to positively contribute to the environment and the wider society around them; they are on an ecosystem regeneration mission where a true concern for nature and society drives all decisions. Consultations with local community members and local stakeholders are constantly conducted to fine-tune the operations of the business in the community for the ecosystems. For example, a relatively long community consultation was put in place to design and create Fogo Island Inn in Newfoundland, Canada; the size of the property and its adaptation to the natural landscape including the carpentry and furnishing works were agreed with the local community.
These consultations often lead to the creation of side business units that contribute to local entrepreneurship and socio-economic development, as in the case of the Rockhouse Hotel in Jamaica; the funders were able to support the birth and rise of local businesses such as water bottling companies and hydroponic farms. These side businesses facilitated by the hotel support the local community and de-facto shorten the hotel supply chain.
Reflecting Inward
Regenerative hospitality properties tend to have special care not only towards the external environment and community but they also provide special care for their guests by allowing hosts and staff at the hotel to co-create relevant experiences with them. It is the orchestration of natural, social and cultural elements which are flourishing around the properties that support meaningful interpersonal and nature-based relationships.
Regenerative hotels aim to create mindful experiences to guide their guests towards transformative moments. This is the case, for example, at Bliss and Stars in South Africa which takes guests on an inner journey of meditation and relaxation supported by wild nature and expert stargazing. Central in this process is the role of local employees and community small businesses who facilitate the creation and co-creation of value for the final stakeholders. Most of the managing directors we met during our research stressed the importance of hiring and growing local passionate people who care about nature and the community to drive the model forward and to engage guests on a different level.
Why Do We Need Regenerative Hospitality?
What became apparent in our research journey was the interest and the passion of each professional we met with respect to their regenerative hospitality practices. The reasons for their enthusiasm could be drilled down to four main elements:
1. Local vs Global
Regenerative Hospitality stresses local impact; it is less about generic sustainability guidelines to comply with and to justify towards a given body or certification authority. It is more about a genuine involvement with the local ecosystem. It is not about doing less harm to the environment and the community and it is more about local systemic net-positive impact. Results are visible and the impact is understandable.
2. Harmonic Systemic Approach
The outward (i.e. ecosystem and community) and inward (i.e. host and guest) worlds collaborate to facilitate net-positive impact for all. The hospitality business is not conceived in isolation but opens up and impacts inward and outward spheres. Nature and its complexity along with the multifaceted community forces are embraced to strengthen the acceptance and support of the hospitality operations in the supply chain but also for guests' experiential journey.
3. Employee Retention
Locally hired employees are part of this impactful picture and can support both the outward and inward nature of the ecosystem. Additionally, having a 'mission' for the wider community will support the retention of the employees/community members who search for purposeful jobs.
4. Guest Engagement
Guests looking for sustainability-related experiences can easily relate to the concept of regenerative hospitality. But there is more than the marketing side to this approach; mindful experiences can trigger transformation and regeneration for guests and these experiences are often co-created with and orchestrated by local employees and local bodies. Therefore, this fosters the possibility of bilateral engagement.
All in all, the Regenerative Hospitality approach requires a mind-shift for hoteliers to really focus on that which is 'local'; this will foster creativity at all levels thanks to commitment and engagement with nature, community and visitors.
Who is Regenerative Hospitality For?
In our study, we came across relatively small and privately owned properties which are driving the change in the hospitality field. However, we believe there is space for all hospitality establishments to embrace the regenerative mindshift. The crucial action is just to start, so here below are some tips on how to start and progress:
1. Develop a regenerative proposition and draft a suitability/regenerative plan: What is regeneration for you? How can your business have a positive impact on the wider community? What can you and your colleagues do to make a difference locally?
2. Refine your idea with stakeholders in the community: Once you find your regenerative proposition, refine it with key community stakeholders. Engage in consultations; bring relevant stakeholders on board and start the regenerative journey.
3. Engage your staff and create 'ambassadors' to establish meaningful relationships within the company and outside the company. Always be crystal clear with your plan and give a purpose to your employees to serve their local community.
4. Involve your guests and orchestrate experiential elements coming from the community, the natural environment and the staff. Harvest the richness of the world around you to promote change in your customers.
5. Track, Report and Communicate: Do not be shy of your achievements but do not brag about them either. Report them in a clear and concise way. Leading the local conversation and communicating your achievement will foster your national and international exposure in front of a target audience that will tune in to the conversation.
---
Become a RegenerativeTravel+ member

 to gain access to practical resources to help deepen your knowledge and application of regenerative principles and embark on your own regenerative journey.