Seaweed, as it turns out, may just be the key to a sustainable and profitable future, benefiting both the environment and the people who depend on it.
Ocean health has always been integral to the success and prosperity of coastal communities in Belize; for many years, fishing has been a staple livelihood in the region. Over the past few decades however, fishers have returned to shore with fewer and fewer fish in their boats. Between climate change, unsustainable development, and overfishing, the marine ecosystems off the coast had been largely depleted. The future of the native species and the fishing communities in the area looked bleak.
That's where The Nature Conservancy (TNC) came in. With their mission to "conserve the lands and waters on which all life depends," the organization, in collaboration with fishers, developed an ingenious solution that would continue to provide a livelihood for Belizean fishers while regenerating the depleted ocean environment.
Their answer? Sustainable seaweed farms.
Julie Robinson, Belize Oceans Manager at TNC, is part of the groundbreaking team that unlocked the hidden potential of seaweed farms. Known as "Belize gold," the seaweed grown by the farms provides a holistic approach to solving the problems that are facing Belize: by giving fishers alternative employment that keeps them on the water, combating overfishing, providing safe habitat for native fish and invertebrates, and reducing ocean acidification locally.
The seaweed project has now been recognized by TNC as one of its most successful ventures to date, and is supported by Hamanasi Resort. The hotel annually donates $10,000 to TNC Belize, and like many Regenerative Resorts locations, encourages guests to donate to the organization while educating them on the importance of its mission. Guests can also experience the benefits of seaweed firsthand at the resort, as Hamanasi utilizes seaweed in a variety of ways from healthy smoothies to rejuvenating spa treatments.
But beyond its capacity for wellness treatments, seaweed farming represents a sustainable livelihood for many Belizeans—something that Hamanasi Resort owner Dana Krauskopf believes is integral to the region's ability to thrive.
"Strong communities and healthy ecosystems are vital to Hamanasi and critical for sustainable tourism," Krauskopf says. "The regenerative aspects of seaweed farming are complimentary to Hamanasi's regenerative practices. We believe TNC is pragmatically addressing issues that affect Belize's reef and people based on scientific methods."
When it comes to the seaweed farms, there is certainly no shortage of research. We spoke with TNC's Julie Robinson—diving deep into the science behind this project—in order to understand exactly how seaweed farms in Belize are making waves in global sustainability efforts.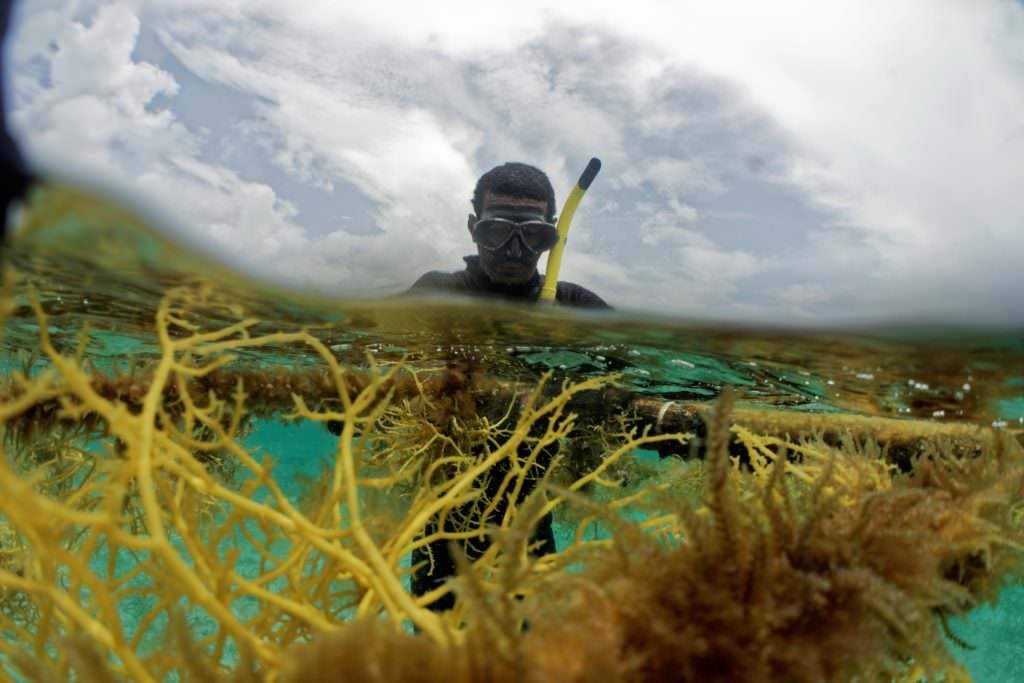 What is the mission of TNC? How is the seaweed farm project contributing to that mission?
Our mission is to conserve the lands and waters on which all life depends. Part of that is providing food and water sustainably—that's one of our big strategies. Conservation is as much about the people as it is about the environment. We will not accomplish anything unless we take into consideration the social and economic impacts of the conservation strategies we want to implement.
This project in particular allows us to address both, which makes it very innovative. It's providing habitat for important species and reducing fishing pressure, but it's also providing income for coastal communities. We just started, but once we get this to scale our goal is to create an entirely new, sustainable industry for the country.
This project addresses the ecological, social, and economic factors impacting our environment and culture, and is based on scientific research—making it incredibly valuable for meeting our mission.
How did TNC first conceive of using seaweed farming to regenerate the environment?
That's a funny story—it's personal. We started off with developing farms as an alternative livelihood only. It was really about people. We had no idea what these other regenerative and ecosystem services would be.
One day I was out on the farms with a couple of the guys that we started this with, and I was helping them clean the seaweed and replant it. I came across this two-inch spiny lobster. I was struck by this. I'd never seen a lobster that size before. I've spent 20 years of my life working on the sea, and I've seen amazing things, but I'd never seen a lobster that size. I realized these farms are doing a lot more than just providing a livelihood or attracting fish. They're attracting lobster.
Lobster is the most valuable fishery commodity in Belize and all the Caribbean right now. That's what led us to do the research to see what other benefits the farms were providing. We had no clue at the sheer amount of correlation between invertebrates and fish to these farms. I was absolutely shocked at the volume of lobsters that were coming out of the seaweed. That's when we realized, "Okay, this is much bigger—this is more than just livelihoods." That's when the project took off.
What specific environmental problems are directly being solved by seaweed farming? How does it regenerate the ecosystem?
The main problem the farming was meant to address was overfishing. It was the primary purpose of going into seaweed farming—creating a supplemental and alternative livelihood.
The farms allow fishers to take a break—reducing the amount of time they spend fishing. It also allows them to stay on the water. It doesn't take them away from their primary livelihood, and that's really important. Oftentimes, alternative livelihood projects tend to take the fishers away from the water and have them do different things. This was a really great match.
Then, we started to see these added restorative benefits that we hadn't anticipated when we first started the project. The farms are providing nursery habitat for ecologically and commercially important species and we saw a link between the seaweed farms and juvenile spiny lobster.
After a year of studies, we found that the seaweed farms are supporting up to 34 different species of fish and 28 different species of invertebrates.
Preliminary data is now showing that the farms are also having an impact on the water temperature directly below. Additionally, from research that's been done in other areas, we know that it locally reduces ocean acidification.There are so many things that revealed themselves once we started doing research on the farms and we hope that these farms will help mitigate against the effects of climate change.
How has seaweed farming been integrated into the local economy and job market?
Up until very recently, seaweed has been collected traditionally from the wild. It used to be abundant, you used to find it everywhere. Now, you can still find wild patches of seaweed but it's a carefully guarded secret as it's been overharvested. With farming, we're taking the pressure off those wild stocks of seaweed.
Seaweed shakes are a tradition and part of our culture. It has been a very local and opportunistic industry but now, people now also recognize the nutritional value of seaweed—it's the next kale. We're starting to find product lines in the supermarkets with seaweed. One thing we've noted is that people are importing seaweed because they cannot find a viable supply locally. That's what we're trying to build up with sustainable farming.
We're still expanding the farms, building up the seed banks, and developing the markets both internationally and locally. At this point in time, there are no 100 percent, dedicated seaweed farmers. Seaweed farming is supplemental income to whatever else they do—which is usually fishing. We anticipate that in a couple of years, we can have farmers and individuals specialize in it. Not just farming, but also processing and making value-added products.
What makes seaweed an ideal plant for sustainable farming and ecological restoration? Could these principles be applied to traditional agriculture?
When I think about traditional agriculture, the first thing that comes to mind is that you need fresh water, fertilizer/feed, and soil. The great thing about seaweed is you don't need any of those things. That's one big advantage of aquaculture.
We've put together various tools and concepts that can be applied to agriculture. For example, we have developed smart siting criteria. We're looking at where the best places are to develop farms with the highest productivity, but also create connectivity to the rest of the marine habitats. We are also focusing on areas that are not going to cause conflicts with other users.
The other tool is comprehensive best management practices (BMP) guidelines for sustainably farming seaweed. The same can be done for any agricultural crop. We are creating a financial mechanism that will provide low-interest loans to small farmers wanting to start up seaweed farming, but we're linking these loans to conservation criteria based on those best management practices. If you want to have access to these loans and other technical support, you must follow the BMPs.
We're taking all of this—including the science, the training and capacity-building—and packaging it within a virtual center of excellence and innovation. We want to create a platform where we retain permanent capacity and knowledge for all the work that's been done and allow it to be easily shared. This way it can be scaled up across the rest of the region, the Caribbean, America and beyond.
Where do you see the future of sustainable aquaculture going? Can we do more with seaweed?
Aquaculture is the future. There's no other way in which we're going to be able to feed 10 billion people. It's impossible. The aquaculture industry has made many mistakes, but technology and new research has improved the industry tremendously to the point that it can provide restorative functions and ecosystem benefits to the surrounding environment.
In terms of seaweed, what I see is called IMTA (integrated multi-trophic aquaculture). That, to me, is the holy grail of sustainable aquaculture. It combines different species to provide different benefits within the system, increasing productivity and reducing impacts.
For example, you can combine seaweed, oysters and fish in the same system. Seaweed mitigates against ocean acidification, making oysters stronger. Both seaweed and oysters filter water, reducing pollution and providing better water chemistry for fish. Fish detritus provides nutrients for seaweed and oysters, and farms provide great habitat for multiple species. That's just one example. You can combine different species in order to provide different benefits and mitigate against climate change. I think that's our future.
Book your stay at Hamanasi Resort with Regenerative Travel to receive exclusive membership perks.