The Regenerative Travel Impact Awards

celebrate people and projects that embody the spirit of regeneration—improving people's lives, our communities, and the world around us. We are searching the globe for inspiring changemakers working to solve our biggest challenges and inspiring positive action, both inside and outside of travel.
View the winner & finalists for the Community category featuring initiatives that promote equity and honor culture for vibrant, resilient communities.
Winner: Seeds & Stories Uganda
The Seeds & Stories project is a community-led regenerative fashion line based in Bigodi, Uganda. All products are handmade by local women in its carbon-neutral workshop, using regenerative plant-based fibres sustainably grown by local farmers. Seeds & Stories' production is focused on providing sustainable, meaningful livelihood to local people, conserving the environment, and reviving traditional crafts.
The project was developed due to emerging issues related to COVID-19; recent research demonstrated that local women identified a lack of a sustainable source of income as their most significant challenge. Women in particular are faced with immense workloads, farming and domestic chores, working on average 15 hours per day.
Bigodi is suffering from the effects of environmental degradation due to human activities. With this in mind, Seeds & Stories' mission is to combat environmental degradation and contribute to Bigodi's environmental regeneration through education and vocational training, helping the population build a circular, self-sufficient, community-based economy. It offers training on permaculture, regenerative agriculture, waste management, and water conservation. The social enterprise it created incentivizes local farmers to engage in regenerative agriculture by buying their products.
In particular, the enterprise is interested in utilizing barkcloth, a regenerative material made from the bark of the local Mutuba Tree (Ficus species) and a traditional practice in South-West Uganda. Naturally regenerating every year, the tree bark is harvested ethically and sustainably by local populations, who are able to produce high-value products without harming the tree. It is also carbon negative, fully compostable, and enriches the soil. The community is propagating the Mutuba trees and by doing so, the project hopes to contribute to climate modification.
Seeds & Stories' curriculum for its vocational training centre will be created in consultation with the local community, focusing on subjects that the women would like to learn and teach. Already, a group of women are developing ideas on how they could repurpose their basket-weaving skills to make new products and upcycle their clothing. The project believes that the creativity and skill of these women is essential to the development of in-demand and scalable goods as it starts production at a later phase.
The enterprise's social impact model ensures that workers are paid a fair salary, ensured a safe work environment, given flexible working hours and the possibility to work at home, and equipped with child-care facilities so women can have a good work-life balance. It is planning to invest profit from its social enterprise back into local community education and health care for families to create a greater benefit for the artisans.
---
Finalists
Indigenous Kokoda Adventures
Indigenous Kokoda Adventures (IKA) is the first wholly indigenous, locally owned, led and operated tour operator on the Kokoda Track. While Indigenous Kokoda Adventures is a tour operator, it considers itself a community-focused one. It aims to provide a better employment experience for its porters and guides, which involves fair compensation, access to bank accounts, automatic contributions to the NASFUND (comparable to a federal savings plan), health insurance, and a partially paid trip back to their respective villages post-trek, among other employment benefits.
IKA believes that better compensating porters and guides will ultimately result in better outcomes for the families, villages, and communities along the track. Better access to education is the number one way to break the cycle of poverty, and with better compensation, the porters/guides will be better able to educate their children.
The story told by IKA's guides and historians is the story of the local people, the people of the Track, and of Papua New Guinea. Up until now, all other tour operators have been foreign-owned (primarily Australian), and the story told is from the Australian perspective, with very little of the Papua New Guinean perspective being offered to trekkers. The voice of the people of Kokoda has been lost in the sea of foreign voices. And IKA is committed to changing that.
The trek along the Kokoda Track involves bringing travellers face-to-face with the reality of life for the people, families, and trekkers' porters and how hard it is to rise above their current situation if the tourism model doesn't change. Through this, IKA hopes to open peoples' eyes to the struggle of so many people and how critical it is to ensure travel and tourism dollars wind up where they should be – helping local communities.
The operator has the wholehearted support of the village chiefs, who are also fully embracing the opportunity to welcome IKAs guests to their respective villages. It has many special events planned in the villages that will give trekkers many opportunities to meet the people and learn the culture and traditions in the villages as they walk to the villages along the Kokoda Track.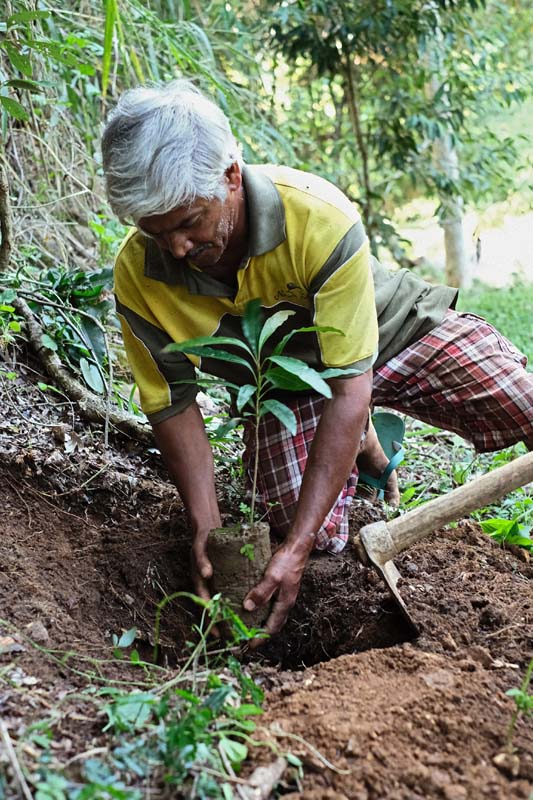 Living Heritage Koslanda
Living Heritage Koslanda was conceived more than 20 years ago with the intention of sustainable development in a rural community, whilst protecting a remote and beautiful patch of Sri Lanka. It has revived ancient vernacular crafts during construction, inviting the local villagers to relearn building skills long forgotten, using locally sourced and sustainable materials. The celebration of traditional architecture preserves Sri Lankan culture, a sentiment continuing with local village employees and a large percentage of women working at the hotel. This provides earning potential for many families in the area who would otherwise be forced to migrate to the city for work.
Interwoven with the integrity of the build has been the restoration of the landscape. Set within an abandoned tea and rubber estate of 80 acres, the hotel spent many years reforesting and restoring the biodiversity and replanting many of the hardwoods lost. An ongoing project has seen it plant more than 5000 trees, providing a protected area for migrating elephants and other endangered fauna and flora.
Promoting tree planting beyond its borders and lending weight to the anti-plastic campaign, Living Heritage held its first Koslanda Environment Awareness Day in October 2018, closing the hotel for two days. It invited 80 school students from the region and the capital to participate in fun-packed educational days, aiming to promote awareness and inspire budding environmentalists. With over a hundred participants now, all schools produce an array of educational forums – from films translated into both Sinhala and Tamil, discussion groups, performances and art sessions with environmental messages, to specific forest restoration and plastic waste reduction learnings.
A tour around the hotel's newly forested areas showcases trees like Ebony, Hal and Kumbuk – some species the children will have never seen due to their scarcity. Each student ends the day by selecting a sapling from the nursery to plant at home or in school. The hotel takes this programme on the road to participating schools, planting trees in the community in order to widen the catchment of students.
This ethos of environmental protection and restoration now extends to the hotel's organic garden, providing food for guests whilst teaching village farmers how to adopt permaculture principles. Living Heritage Koslanda's goal is to move towards zero waste and shift to all-natural products.