Sri Lanka is home to some of the most captivating displays of wildlife photography tours. From birds to leopards, lions and more – you're guaranteed to see your fair share of creatures and animals while visiting this incredible country. If you're an adventurous traveler with an enthusiasm for animals, then you'll definitely want to book a ticket for a Sri Lanka wildlife photography tour.
If you're not sure which companies offer the best tours and give you a chance to capture wildlife in their natural habitat, we've compiled a list of the six best wildlife photography tours for you to check out. Let's take a look and get you ready for your exciting wildlife photography project in Sri Lanka.
6 Best Sri Lanka Wildlife Photography Tours
Wild images offers an 11 day photographic Safari focusing on capturing the wildlife treasures of Sri Lanka. Start at Minneriya National Park, where you will see Asian elephants wandering through the forest. The second spot you will explore during this photography tour is the Yala National Park. It's one of the best places in the world to see and photograph wild lepers and sloth bears. Located on the southern coast of Sri Lanka, this park includes wetlands, patches of forest and woodland areas.
In addition to these two parks, you will also explore the cave temples of Dambulla. For this photography tour, Wild Images suggest that you should bring the following equipment to capture your wildlife images:
If you use a DSLR camera, you should bring telephoto lenses and a wide-angle lens for landscape images. They also note that there will be plenty of opportunities to use a macro lens and you could also bring a camera with a zoom lens for up close shots.
Don't forget to bring spare battery power and any other equipment for the entirety of the day.
Prices for the tour range from $590 to $3,790. To get a full breakdown of pricing and to book your photography Wildlife tour with Wild Images – visit their website here.
Penda photo tours are all about exploring the stunning wilderness of Sri Lanka and its wildlife habitats including leopards, elephants and sloth bears.
According to their website, their 8 day photo tour takes place in Yala National Park where you will have the opportunity to witness a jungle of animals and learn everything about wildlife photography.
"You'll put your skills to practice with our photo safari and have the chance to photograph animals from birds to mammals and even jungle cats and elephants."
Hosted by award-winning photographer Lucia Griggi, your photo workshop will be compiled of a small group – in order for the participants to have personal tutoring and guidance on their photographic skills. This workshop is suitable for all levels of photographers.
Some of the skills you will learn during the workshop include:
Composition of working with different backgrounds
Exposure and Lighting
Post production
Storytelling in photography
Location shooting
Marketing and selling images
To view the entire itinerary and book your photo tour, visit their website here.
This wildlife photography tour brings photographers from all over the world to capture the stunning wildlife of Sri Lanka.
On this trip, you'll have the chance to photograph leopards, wild Asian elephants, primates, bears, colorful butterflies, dragonflies and reptiles. It also covers bird watching and wildlife sites including places such as:
Bundala National Park
Ramsar Wetland
Royal Botanical Gardens
Yala National Park and more
The duration of your tour is up to you – they offer both short and long options. The tour will be hosted by a guide who has in-depth knowledge of the birds of Sri Lanka, national parks and photographing wildlife.
In order to book your tour, you'll need to inquire with Walk With Jith – you can find all of their contact information on their website here.
Wildlife Tours offers photography tours for 11 nights / 12 days. During this tour, you will visit a range of ecosystems and exotic species.
The company's mission is to combine their customers' love of wildlife and photography. Their founder is deeply invested in wildlife within Sri Lanka and has traveled extensively across the country and world to pursue his passion.
They have been putting together tours for over two decades and their mission is to, "Maximize your wildlife encounters by ensuring all logistics are taken care of efficiently, so that all you have to do is enjoy your tour."
The tour starts in Colombo, the commercial capital of Sri Lanka. You will then make your way to Deniyaya, to experience the Sinharaja Rain Forest.
Additionally, you will visit other spots such as bird sanctuaries and national parks as well as the coastal city of Negombo.
To learn more about pricing and inquire about an upcoming safari trip – visit their website here.
Epic Sri Lanka Holidays hosts a wildlife photography tour that will allow you to capture elephants, leopards and birds through the eye of your lens.
Some of the highlights of the tour include:
Afternoon safari at Udawalawe Park
Yala National Park
Bundala National Park
Their tour lasts for 7 days and it allows you to see and photograph some of the most beautiful wildlife areas of Sri Lanka.
To inquire about their photography Wildlife tours and book your trip – visit their website here.
The final Wildlife photography tour in Sri Lanka is hosted by Ceylon Expeditions.
During this tour you will visit some incredible sites such as:
Wilpattu National Park
Minneriya National Park
Yala National Park
Sinharaja Rain Forest and more..
The trip is for 12 nights / 13 days and is ideal for wildlife photographers, families and students.
Your guide will be with you during the entirety of the Safari and all other excursions. And, the Department of Wildlife Conservation provides a naturalist/ trekker for each Jeep Safari.
To view their entire itinerary day by day and to inquire about booking a tour – you will find all of their contact information on their website here.
Book Your Eco-Luxury Vacation With Regenerative Travel
After your incredible journey of photographing the impressive wildlife of Sri Lanka, why not reward yourself with a luxury stay at one of our eco-friendly resorts? At Regenerative Travel, our resorts are built on the premise of wellness, sustainability and environmentally conscious principles. We are equipped with amenities and accommodations guaranteed to make your Sri Lanka trip one of relaxation and true comfort. Here are three resorts located in Sri Lanka for a perfect getaway:
While staying at TRI, you will have the opportunity to experience the art of Sri Lankan cooking, take a boat trip to Cinnamon Island and visit the unique fort at Galle. With beautiful lake views, private open-air pools and cozy romantic guest rooms in the cinnamon wood covered Hilltop Water Tower. You also have a wellness area and spa that offers several different services such as yoga and relaxing amenities. Finally, while staying at TRI, you can experience the lake to table and garden to plate dining at our organic and seasonal restaurant. Discover contemporary, creative dishes that will truly appeal to your taste buds. To discover more about TRI and to book your stay, click here.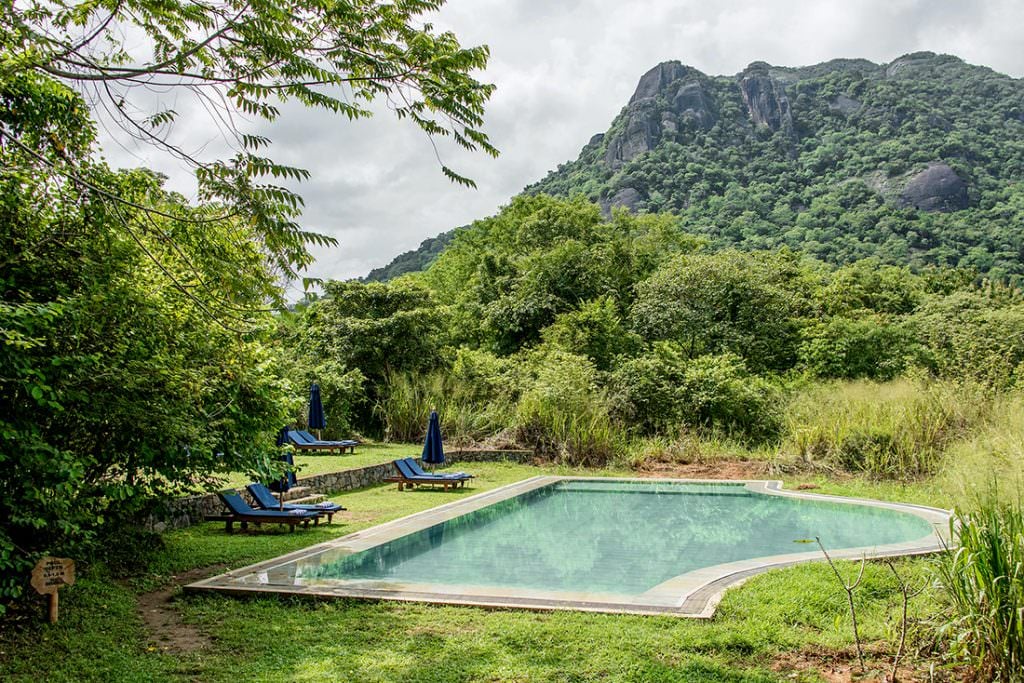 Our second eco-friendly resort in Sri Lanka is Gal Oya Lodge. Staying here will allow you to explore the rich wildlife and bask in one of the most remote and least visited wilderness areas of Sri Lanka. Gal Oya is a unique eco-lodge spread across 20 acres of private jungle. Here you can take your time to enjoy the natural paradise through the experiences that we offer such as a walk with our Vedda neighbors – one of the last remaining communities of indigenous people in Sri Lanka. With Bungalow bedrooms with a design that follows nature, Gal Oya uses sustainable and local materials and each of our living spaces comes with a spectacular view. At the resort, you can take advantage of the tailored experiences such as jeep and boat safaris, hikes with the Vedda tribe, research and conservation activities and Sri Lankan cooking. For everything you need to know about Gal Oya and to book your stay, click here.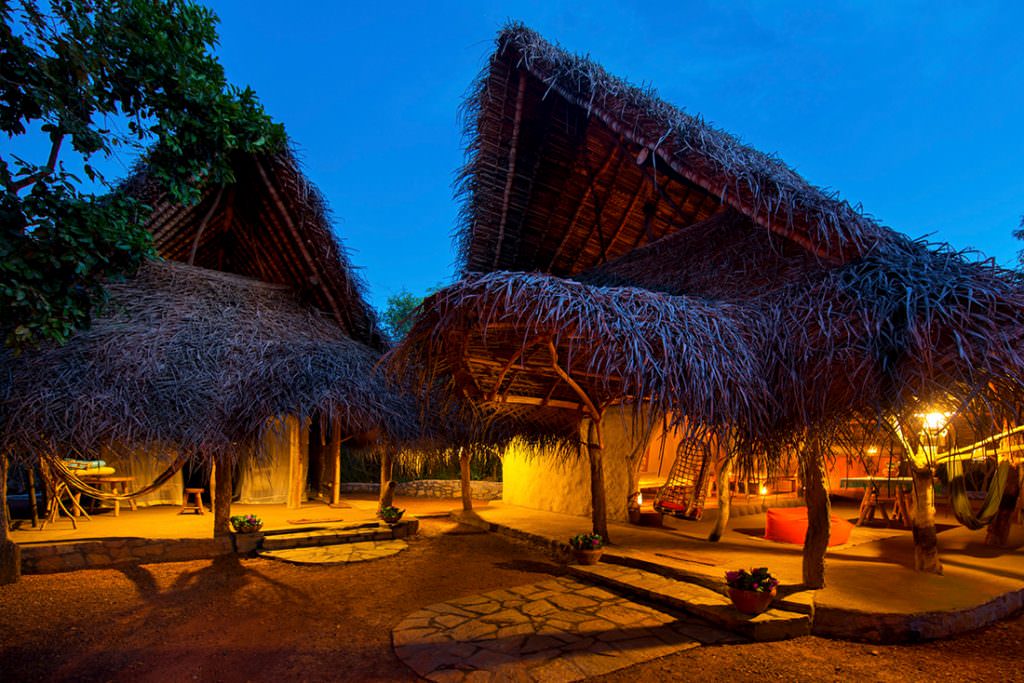 The Mudhouse in Sri Lanka is a place of calm and tranquility, where life moves at a different pace. It is a private and seductive jungle lodge, far away from the beaten track. Surrounded by lakes and blessed with abundant birdlife, wildlife and natural beauty – The Mudhouse offers a range of rustic accommodation in private and individually designed huts. While staying at The Mudhouse, you'll have the opportunity to experience what it's like to live on a permanent safari. You will have the chance to witness a variety of animals including monkeys, birds, jungle cats and more. To explore our full offerings of accommodation at the Mudhouse, click here.
---
As you can see, Regenerative Travel Resorts offer an immersive experience and opportunity to witness the incredible communities of Sri Lankan wildlife. When you stay at one of our resorts, you'll have the chance to engage in wellness practices, photograph the natural beauty of Sri Lanka and contribute to the environmentally conscious and sustainable practices that lie at the core of our mission.
For more information about Regenerative Travel and how you can book your next stay at one of our eco-luxury resorts, learn more here.