We are where we retreat. Our homes have suddenly become our whole world, and as a result, we are starting to turn to interior design as a means to bring the natural comforts of the outside world in. Any ecology professor will tell you that humans evolved in nature. And whether you consider yourself 'outdoorsy' or not, as a species our biological need to be close to natural environments cannot be denied. And the architecture industry has certainly woken up to this realization. The desire to create spaces built for more than just efficiency has given way to the future of the industry: Biophilic design.
Why should we turn to biophilic design?
Biophilia (meaning 'love of nature') is a concept used in the architectural and interior design world to increase connectivity between a space's occupant and the environment. In design, this means an emphasis on overall physical, spiritual, and emotional connectivity to a space. Koichi Takada, an architect out of Australia, is taking a page out of Mother Nature's handbook with his sunflower-inspired design.
Like the sunflower, the tiered cylindrical-shaped buildings are heliotropic, meaning they move towards the direction of the sunlight. Takada's creative ethos lies in a 'form follows function' philosophy where nature serves as the ultimate guiding force. 'The inspiration of our design is the sunflower, as we strive to harness the power of the sun. Its roof and each floor rotate on sensors for maximum sun exposure or for optimal performance and user comfort to maximise or minimise the heat gain, especially in the extreme heat conditions recently experienced in the Mediterranean climate.' The result is an idea so bold and yet so obvious.
For decades, architects have leaned toward Mother Nature for inspiration. Mick Pearce famously based the Eastgate Centre in Zimbabwe on cooling structures found in termite mounds. The building now uses 90% less energy to heat and cool than conventional buildings. Regenerative Resort Tri Lanka designed their stunning spiral suites on the Golden Ratio, a logarithmic sequence found throughout nature. If built, the heliotropic Sunflower House would produce 40% more power than if it remained still. In true regenerative fashion, this means it would generate more energy than it needs, feeding that extra energy back into the power grid.
But Takada's Sunflower House is more than just an ode to nature. It is a call to action. As he explains, 'Buildings and infrastructure are responsible for at least 40% of all greenhouse gas emissions. It is high time to rethink the New European Bauhaus, the modern life in harmony with nature.' And harmony begins on the interior.
How to incorporate nature into your interiors
Nothing compares to the feeling of sand between your toes or soft grass beneath your feet. But Alexandra Kehayoglou's moss rug creations come closest to the real thing. Created out of scraps from her parents' carpet factory, Kehayoglou layers different colors and materials to create an elegant patchwork that resembles the forest floor. More art than décor, these unbelievable rugs (and tapestries) are a biophilic interior design dream. Inspired by different landscapes such as the rocky terrain of Patagonia and the winding Santa Cruz River in Argentina, Kehayoglou's work is as much a celebration of nature as it is an outcry against its destruction.
Asked in a 2019 interview about environmental issues facing the planet today, she said, 'We really don't know what can happen in the future. Planet earth has had cycles, we must learn how to live in harmony with ourselves and each other, and that will be reflected in the way we relate to the earth.'
As we sit in our homes, many in cities far away from green spaces, we are reminded how necessary nature is in helping us feel connected to the world and ourselves. The magical powers of a walk down to the park or a trip to the beach may have very well never seemed that important before the pandemic, but now appear so essential to our wellbeing. Why that is has everything to do with the situation we find ourselves in now. While many environmental scholars will tell you that nature is everywhere (city included), it is often hard to see it as such, which is precisely why the biophilic movement is so important.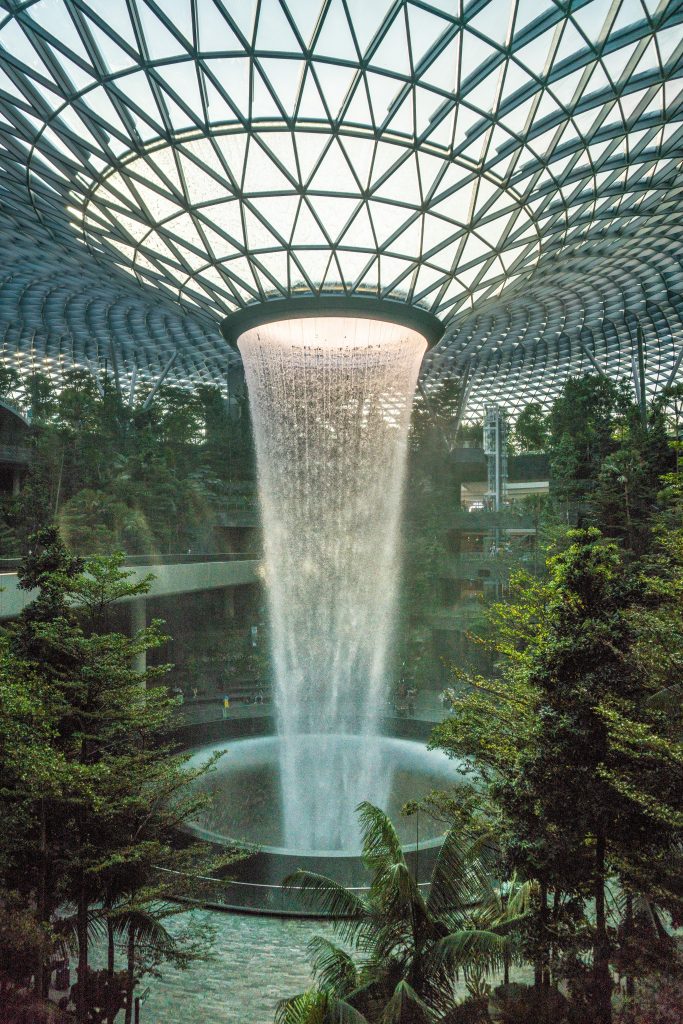 The environmental (and health) crisis demands that we start appreciating the natural world to a greater extent than ever before. Since a getaway to the great outdoors is not an option for many at this moment, transforming our space is the next best alternative. Adding a plethora of hanging plants, a moss rug, pebble bath mats, and diffused lighting can help connect you to your space. And at a time when we all are in serious need of connection, biophilic design can provide a sense of comfort in a very uncomfortable world.
It is time we embrace a shift towards environmental responsibility. For the world of design, this means taking nature and the lessons we learn from it home with us. Your home is a fragile ecosystem all its own. And like any ecosystem, the health of its inhabitants largely relies on how well that habitat is maintained. Whether or not you believe that in the right shade, something as simple as a coat of paint can change your mood for the better, the simple fact remains: nature makes us feel good. So why not learn to embrace it in our homes and throughout our lives?