Meet British-Trinidadian Londoner, Portia Hart, the founder of Blue Apple Beach and the Green Apple Foundation in Colombia. The stylish and eco-chic beach club, Blue Apple is tucked away on the southern shore of Tierra Bomba island, about half an hour by boat from the Colombian mainland. Known for its lively weekend dance parties amongst locals and tourists alike, Portia is equally as dedicated to outstanding hospitality as she is to creating both environmental and social impact through the hotel's initiatives.
In 2017, Portia founded Green Apple Foundation a not-for-profit social enterprise working to change waste and natural resource management by hospitality in Cartagena, in addition to providing local employment opportunities. Since Green Apple's inception, it has diverted 51,000 kg of glass or organic waste from landfill; converted 1,100L of cooking oil into biofuel, and has planted 10 kitchen gardens every six months.
After joining Regenerative Travel in 2019, she became the Standard Bearer for the Regenerative Resorts collection as she knows the journey of a luxury hotelier committed to and striving for a regenerative operation well from first-hand experience; from the beginning, her desire to create a beach club with environmental and social exchange woven into her operations.
We talked with Portia about running a resort on an island previously untouched by hospitality, how a guests' experience can inform a positive chain reaction, and her future aspirations for Blue Apple Beach and the city of Cartagena.
What can guests take away from their Blue Apple Beach experience?
One thing I've seen from our clients when they see the glass crushing machines, or realize the bathroom of their room was built out of mortar, that was made from sand, that was made from bottles of wine, that were drunk on the property – I see how amazed and excited people are, and how much joy it brings them. For a lot of us and I include myself, especially younger generations living in cities, we don't have that connection with nature. We don't really have an understanding of where things come from and the impact environmentally and socially that goes into making them. As we start to realize that impact, we can feel quite guilty. There's a lot of shame. What I would say is put that to one side and just feel the joy. We see our clients' faces light up and they go off on their next vacation and the next hotel puts a plastic straw in their glass. They just say very kindly 'hey guys, have you thought about doing this? 'Cause we stayed at a hotel a few months ago and it wasn't really an eco hotel, but they did all these things that were really cool. It made us really happy and they seem like they'd be really easy to implement.'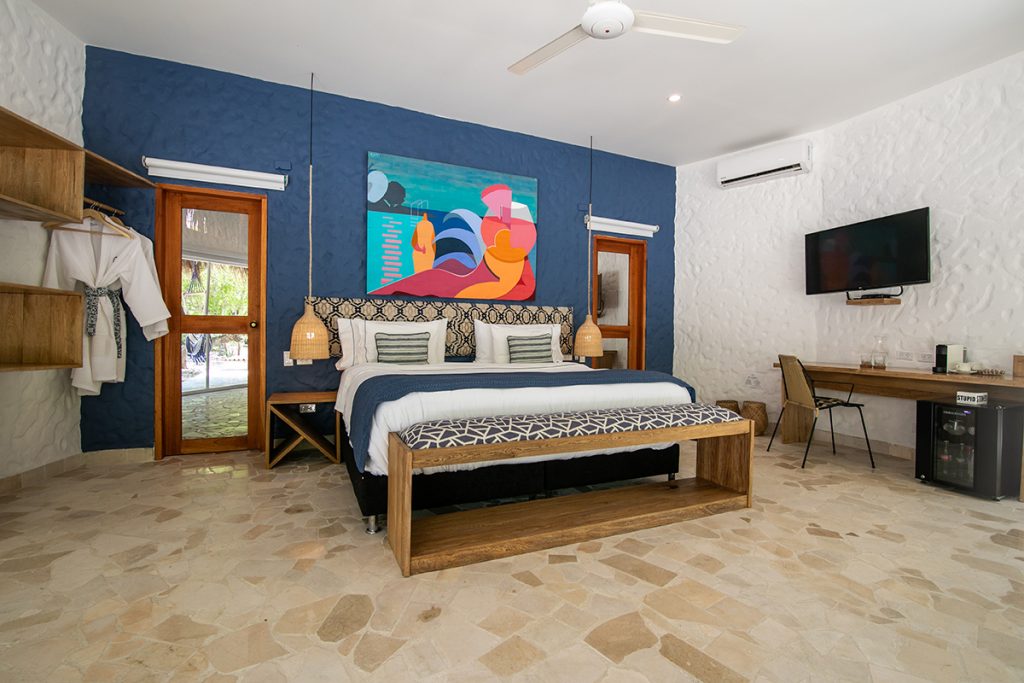 What is the history of the island, Tierra Bomba, Blue Apple Beach is located on?
About two years after opening we were asked to do something that's called a 'prior consent'. It is a global system operated by the UN, designed to stop extractive businesses from exploiting indigenous and vulnerable communities. That was when we ended up really diving into the history of place. What we discovered really sadly, is that the village where we're located has had its own history and culture eroded for decades before our arrival. It was when we started to engage with the villages and say, okay guys, talk to us. What is your local culture? What local foods do you have? Is there a language? Where are your cultural roots? There was virtually nobody left in the village that was able to explain that to us. Since COVID, we've started an internal committee within Blue Apple that works alongside the community. Our aim over the next few years is to see if we can help bring some of those cultural practices actually back to the village itself.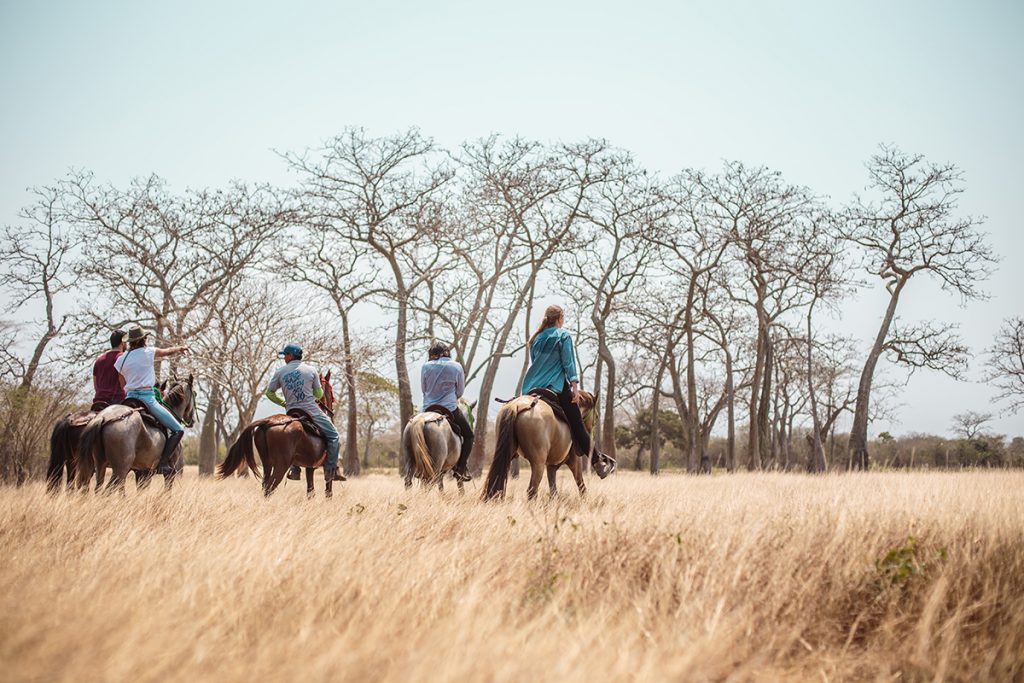 Can you describe your co-evolution with the community over time since you first started?
When we first opened there was no other active tourism operator within five or six kilometers of Blue Apple. We're located on an island, which is about half an hour away from Cartagena; that Island has a population of 12-15,000 people. We started with about 15 members of staff, of whom around half were not from the local community. Within about a year, I'd say about 60-70% of our staff were from the local village. Today that's stayed around the 70-75% mark. We have a fantastic relationship with the local community because it's not just the staff that we hire. We also run activities for our guests, and the activities are managed by local people that we really don't have anything to do with, so that flow of wealth goes directly to the people doing them. We use local suppliers from boat services to taxi services and musicians. We have a network of about 300 people, who in some way or another depend or benefit from us. Our relationship with the community is constantly developing. We're always learning about how we can be more contributive and how we can be better neighbors, but it's always been positive and it continues to stay on that level of positive.
What might you do differently if you were to do it again, and what lessons did you learn over this journey?
If I were to go back in time and start the project again, I think I would document a lot of the stuff we did at the beginning. When I speak with other Regenerative Travel members and other resort owners that have really strong environmental and social credentials, a lot of the time they are doing something that we were doing in the beginning, but we just weren't really aware that we were doing it. The idea of documenting and measuring would have helped us structure our developments.
I would also have liked to have been more environmentally regenerative at an earlier stage. My biggest take homes are that doing the right thing, both environmentally and socially, is really good for business. It might cost you 5-10% more, but the return you get on that in terms of customer loyalty, customer engagement, publicity, press coverage, far outweighs the expense. I wish that was something made clearer to those of us who are small businesses: from the very beginning, do it right and it will be worth it in the long run.
What are you aspiring to get better at?
Absolutely everything. But right now, my two biggest priorities are my energy and my water. I know that being on grid does have a big environmental negative impact. The island we're on is not connected to mains water – all water comes to the island on boats, and these barges are powered by diesel. We have finally found the right solutions that will enable us to produce our own water with a very low impact – desalination machine, which barely puts any salt back into the ocean. Solar panels have now become affordable for a business of our size. The other program we're working on, an 18 month program, is to go zero waste. Zero waste is a very tricky thing to really achieve, but the process of trying to move there is a really good way of engaging our staff about wastefulness and looking for alternatives.
What I personally am aiming to do more and more of is to make sure absolutely everything we learn, we share with our community of peers in hospitality. I'm working with the local tourism authority, because in the Cartagena tourism industry there's no local tax that goes back into tourism so everything goes nationally to Bogotá. We want to start a local sustainability, voluntary contribution – not a tax – and use that fund to help businesses, like Blue Apple, to make some of the changes that we've made with our own funding. It's about making the whole city better, I don't think that a destination is interesting if it only has one or two responsible businesses. I would like the whole destination to be seen as responsible.
To learn more about Blue Apple Beach or to book a trip to Colombia, schedule your complimentary travel consultation today.