Edit 8/23: Since the original publication of this piece, the author has been made aware of the reform work of John Roberts and the Asian Captive Elephant Working Group (ACEWG). The piece has been slightly modified to reflect the heartening existence of these efforts.
In August 2019, a global cohort of scientists, philosophers, veterinarians, tourism operators and animal rights activists gathered in Sweden to discuss the ethics of animal tourism. The topics ranged from wildlife safaris to cat cafes, from cultural relativism to sustainable certifications, and culminated in an interdisciplinary collection of guidelines for industry reform.
What these experts found was that despite the great diversity of styles and locations peddling animal-based experiences, the main selling point industry-wide was the opportunity for tourists to connect with nature in an "authentic, tactile, multisensory" way.
And is it any wonder? After all, as of 2020, over 50% of the world's population lived in cities. This number is even higher in Europe and the Americas, which range between 75% and 84%. According to the symposium, titled Instagranimal: Animal Welfare and Animal Ethics Challenges of Animal-Based Tourism, urban clients make up a huge portion of animal tourism's client base mostly due to their willingness to pay to "'get away' from the city and rediscover the wild."
Problems arise, however, when this longing for connection comes at the expense of the animals themselves, whether that be through harmful training practices, inadequate housing, nutrition or socialization, or, even more innately, moral dilemmas over animal sovereignty; that is, whether the benefits of tourism outweigh animals' intrinsic rights to freedom and self-determination.
On the other hand, tourism can provide crucial financial resources for conservation organizations and the people these groups employ. One example is Bonaire National Marine Park in the Dutch Caribbean, whose initiatives include public education, marine research and monitoring and enforcement, and which in 2017 was able to earn 90% of its funding just from foreign and local visitor revenue alone.
Given the industry's complexities, how are conscious travelers to navigate these ethical dilemmas and find some justifiable middle ground?
Of course there is no easy fix, and no meaningful reform individual travelers alone can achieve without cooperation from governments, tour operators and each other. Still, we can look to the symposium's expert guidance as a starting point.
While the suggestions below are by no means exhaustive, we hope they can help to bridge the gap between awareness and action, and serve as a valuable resource for anyone looking to connect with our animal kin in a more positive, responsible way.
---
What To Look For:
There's a heuristic that all animal tourism is unethical, but the truth of course is a bit more nuanced. According to wildlife advocacy group World Animal Protection, approximately 75% of global animal tourism experiences are guilty of welfare or conservation abuses. These include elephant rides in Thailand, for which baby elephants undergo a cruel training program called "the crush," designed to break their spirits and make them docile enough to ride; tiger selfies, which require similar disciplining; and dolphin swims, which trap dolphins in restrictive enclosures about the size of swimming pools and whose chlorine-treated waters can cause painful skin and eye irritations.
For every three harmful experiences, however, World Animal Protection found at least one venue treating its animals correctly.
When researching potential encounters, here are a few positive signs to look for:
#1: No Touching
Whether it's petting zoos or elephant rides, close animal encounters carry with them a broad spectrum of risks, including zoonotic diseases and animal stress. In fact, these risks became so prevalent that in 2016, Tripadvisor adopted a "no touch" policy, banning ticket sales to attractions which offered physical contact with wildlife. Animals for these attractions are often drugged or beaten in order to make them docile enough to abide direct human interaction. And that's not to mention the dangers visitors themselves can pose due to improper animal handling. In general, beware of any experiences which encourage direct interaction, or at least look for those with a certified training component beforehand.
For elephant rides in particular, according to Conde Nast, the Asian Captive Elephant Working Group has worked for years on "developing a minimum standard of welfare for captive elephants working in Southeast Asia's tourism industry," including reduced labor time (3 – 4 hour rides only), positive over punitive motivation tactics and bareback, sans-saddle rides only. Such efforts are necessary and encouraging, especially to reduce potential financial strain on elephant trainers facing the challenge of both transitioning away from the industry while still providing for their families. Yet for the majority of the industry, these more careful practices are hardly the norm, and conscious tourists should take significant care to vet potential elephant encounters before patronizing. Some useful questions to ask are listed in the section below."
#2: Ample Space
Ample here refers not only to the size of enclosures, but also the distance between tourist and animal (per tip one) and between animal and animal. While some enclosure may be necessary for rehabilitation purposes (such as is the case for animals with disabilities, illness or old age), the best experiences allow wildlife to live in as close an approximation to their natural habitats as possible.
Ask your tour provider about the animals' living conditions outside the visiting area. Do they have adequate nutrition? Ample space to wander? Appropriate opportunity to socialize? And don't just take their word for it. As evidenced in research by National Geographic, many operators are instructed to simply handwave away tourist concerns, which is why keeping a watchful eye and demanding transparency is critical. Cages and chains of any kind are an obvious red flag, but even more broadly, it's best to seek out experiences where (a limited number of) tourists are invited to visit the animals' natural habitats and not the other way around.
#3: No Performing/Unnatural Behaviors (Including Selfies!)
I'll admit it – growing up, watching Shamu and friends perform spectacular flips was the highlight of my SeaWorld trips. However, engendering a more equitable relationship with our fellow living creatures requires viewing them not merely as sources of entertainment, but sovereign beings unto themselves. Nowhere in the wild do monkeys and tigers pose for selfies, and we shouldn't expect them to do so in captivity either, no matter how much we paid. "Unnatural" in this case can also refer to zoochosis, a form of psychosis in which animals engage in monotonous, obsessive and repetitive actions like pacing, swaying and overgrooming, which can be an obvious sign of poor welfare.
#4: Honors Both Humans and Animals
Finally, responsible tourists must be careful not to sacrifice human dignity in the pursuit of animal. In 2016, researchers for the Veterinary Record put forward the concept of One Welfare, a framework to help people recognize the interdependence between animal, human and environmental wellbeing.
When it comes to tourism, it is not uncommon for the proliferation of animal rights abuses to be tied to poverty and other social problems. A 2019 study in Nature Communications found that poverty and corruption were among the most significant drivers of elephant poaching in sub-Saharan Africa, more so than the effectiveness of local law enforcement. A lack of viable economic alternatives and support from government in these areas can exacerbate existing conservation issues, as well as limit individual tour providers' abilities to reform their operations.
More regenerative tourism models may offer some insight on how to effectively navigate these tensions. For the marine protected area at Tortuga Bay Resort and Club, for example, local fishermen are trained in tourism and coral conservation to help provide a steady financial alternative to illegal overfishing.
Seek out organizations with explicit and verifiable commitments to fair labor, wages and community investment. After all, as relayed by the authors of the One Welfare study, "'The separation between human, social, and animal welfare is an artificial compartmentalisation. These disciplines rely on the same set of scientific measures and heavily depend on each other in an ecological context.'"
---
Options For The Regenerative Traveler
Now that we've learned what to avoid, here are some of our favorite animal experiences doing things the right way:
Intimate Game Drives
In a nutshell: Private safaris away from over-touristed wildlife corridors
Locations: Botswana, South Africa, Tanzania
Notable Regenerative Hotels: African Bush Camps Khwai Leadwood, Samara Karoo Private Game Reserve, Cherero Camp
Wildlife safaris are ubiquitous throughout Africa, appreciated for offering guests the rare opportunity to observe animals in their natural habitats as well as for their emphasis on minimizing environmental impacts. At Cherero Camp in Tanzania, for example, guide vehicles are prohibited from off-roading in order to preserve the natural wildlife migration patterns of the Serengeti's majestic wildlife, including huge herds of gazelle, wildebeest and galloping zebras. Additionally, the camp itself is situated in a more remote region of the Serengeti to limit disturbances from other tour groups.
Nonprofit-run safaris in particular serve the dual purpose of fostering intimate wildlife connections with nature while directing tourism dollars toward critical conservation initiatives. Moving beyond the traditional game drive, Samara Karoo in South Africa offers educational, behind-the-scenes and personalized tours of its rewilding projects, including restoring 67,000 acres of degraded landscape and reintroducing first wild cheetah, lion, elephant and black rhinoceros to the land in more than a century.
Likewise, African Bush Camp's Khwai Leadwood was founded on the values of "sharing and conserving Africa together," with impact programs focused on employing and educating local youth and fostering environmentalism for the next generation.
Sustainable Sanctuaries
In a nutshell: Designated protected areas aimed at restoring endangered species
Locations: Belize, Zanzibar
Notable Regenerative Hotels: Hamanasi Adventure and Dive Resort, The Manta Resort
According to the International Union for Conservation of Nature (IUCN), over one-third of all land on Earth has been degraded due to human activity. Government-protected areas, which traditionally receive a portion of their funding from tourism partnerships, help to safeguard vital natural and cultural resources from continued exploitation.
Less than half an hour away from Hamanasi Adventure and Dive Resort in Belize is the Cockscomb Basin Wildlife Sanctuary, the world's first jaguar preserve and home to over 128,000 acres of waterfalls, mountains, trails, tropical birds, monkeys, reptiles, insects, amphibians and of course, the elusive jaguar. Hamanasi guests may embark on an eight hour excursion to explore the Sanctuary's rich biodiversity, accompanied by one of the resort's expert guides. Other wildlife experiences at Hamanasi include a tropical birding tour, jungle river canoeing tour and diving through the South Water Caye Marine Reserve, each designed to educate guests and leave them with a deeper appreciation and understanding of Belize's diverse flora and fauna.
On Pemba Island in Zanzibar, The Manta Resort's own house reef is home to the KMPA, or Kwanini Marine Protected Area. Partnering with the local community and government and tourism industry stakeholders, Manta channels its appreciation for its surrounding marine biodiversity through extensive conservation and restoration programs both on and offshore. All revenues from its Snorkeling for Conservation program are donated to the local Marine Conservation Area Committee and rangers. In addition, a $30 Impact Donation per person is included with every hotel booking and helps to fund the Kwanini Foundation's conservation and community work.
Volunteer Conservation
In a nutshell: Hands-on opportunities to engage in citizen science and conservation
Locations: Mexico, Dominican Republic
Notable Regenerative Hotels: Playa Viva, Tortuga Bay Resort and Club
Citizen science is a blanket term for a range of initiatives aimed at democratizing scientific research by facilitating public participation. "Citizen science gives participants insight and exposure to the idea that there remain mysteries to solve, that the internet does not hold all the answers, and that science is a dynamic and ever-changing process of pursuing curiosity," shares the California Academy of Sciences in its Citizen Science Toolkit.
Additionally, "…classroom participation in citizen science has been shown to improve performance, ownership of, and investment in scientific work," according to research institution Butterfly Pavilion.
At Playa Viva's La Tortuga Viva sanctuary, visitors can participate in efforts to protect local endangered turtles from both predators and poachers. One example is the Night Patrol Excursion, in which guests head out with LTV staff to scour the beach for sea turtle nests and assist with nocturnal hatchling releases. Since 2010, LTV's all-volunteer team has successfully released more than 450,000 baby sea turtles, and is consistently working to improve its infrastructure, data collection and educational initiatives.
Likewise, guests at Tortuga Bay Resort and Club in the Dominican Republic may enroll in a PADI Coral First Aid Specialty Dive Certification course, take an educational visit to the Center for Marine Innovation or assist with coral restoration or mangrove planting. A leader of the international Partnership for Ecologically Sustainable Coastal Areas (PESCA), the Fundación Grupo Puntacana at Tortuga Bay's coral restoration program has successfully propagated 8,810 transplanted corals and 5,394 linear meters of planted tissue as of 2020, while concurrent initiatives for hawksbill sea turtle restoration as well as an ornamental fish nursery have also resulted in improved livelihoods for local fishing families.
Educational Expeditions
In a nutshell: Nature-based adventures for casual observation
Locations: Canada, Italy
Notable Regenerative Hotels: Fogo Island Inn, Oasy Hotel
Despite their distance of over 3,000 miles, both Fogo Island Inn in Newfoundland and Oasy Hotel in Italy both offer inspiring encounters with local wildlife, but in a more casual, serendipitous setting than other offerings on this list. Whether it's caribou spotting during the fall and winter, whale watching in the summer or birding in spring and fall, Fogo Island guests are free to seek out wildlife on their own, or in the company of expert local guides who can provide greater insight on the area's flowers, wildlife paths and nesting grounds.
For something a bit more adventurous, Oasy Hotel offers a unique wolf tracking excursion through the 900-hectare Oasi Dynamo conservation reserve. Participating visitors will walk along key hunting paths and learn to identify telltale signs of wolf activity, all while supporting the hotel's agriculture, breeding and scientific research initiatives.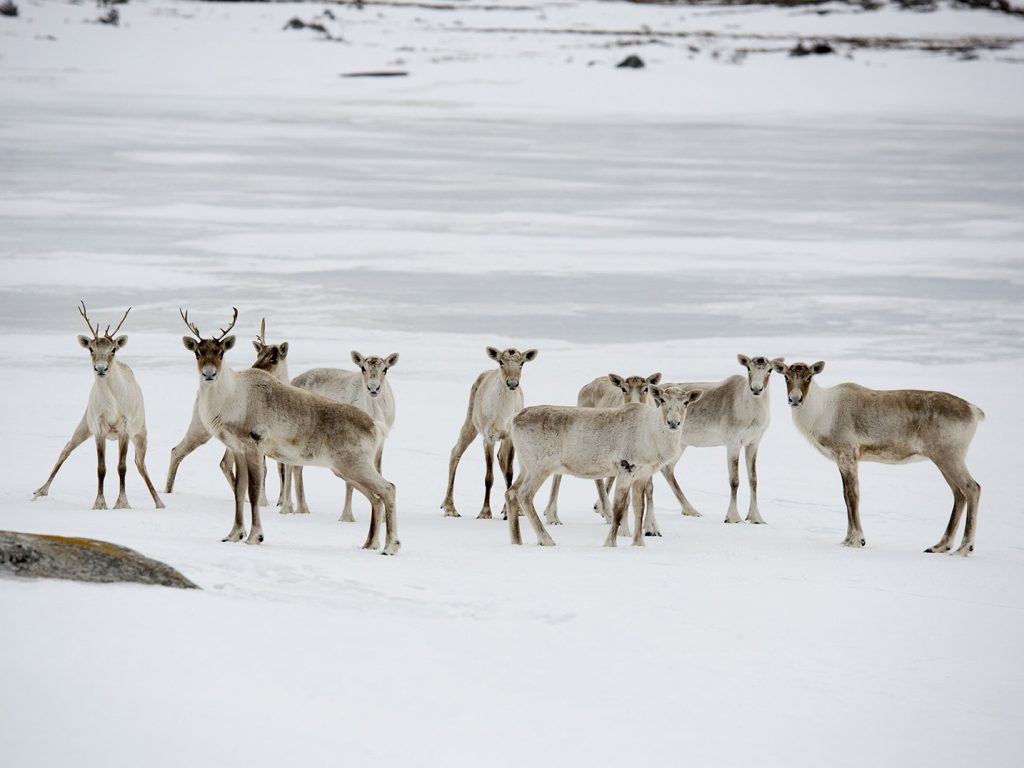 In a 2020 interview with G Adventures, conservationist Jane Goodall relayed the benefits of responsible tourism for animal conservation: "One, it takes foreign exchange in, so the central government is happy. Two, it helps to pay the staff and the rangers who can actually protect the animals. Three, there's no question that the people who go on these tours come back with a passion for helping conservation … So responsible tourism is something that's necessary and important."
Underlying each of these suggestions we've shared here is the importance of shifting our perspectives from ego to eco; seeing our fellow animals not as resources, not as lesser, but as kin. Doing so is critical not only to reforming the animal tourism industry, but also to manifesting the larger regenerative cohabitation of our planet.
In addition to these tips, there are a handful of other ways to be a more animal-friendly traveler, such as reducing your plastic consumption, choosing reef-safe sunscreens, or even going vegan, if you feel so called.
Above all, we must each take the time to recognize our travels not merely as vehicles for entertainment, but as opportunities to co-create a more resilient and equitable future for all human and more-than-human nature.