From reintroducing spring-bok, lions, and elephants to planting over a million species of the carbon-sequestering "spekboom", discover the incredible story of Samara Karoo from co-founder and owner, Sarah Tompkins.
If you asked a young Sarah Tompkins to describe what she might like to do in her future, restoring South Africa's semi-desert lands would unlikely be her answer. Yet together with her husband Mark, the Tompkins have now been on an almost quarter-century-long mission to regenerate 67,000 acres of formerly exploited landscape, while running their luxurious private game reserve: Samara Karoo.
To unravel the incredible story of the Tompkins and Samara, Regenerative Travel recently caught up with Sarah to talk about their decision to take on such a colossal project, the arduous yet rewarding process of restoring the semi-arid lands and the reasons why every regenerative traveller must visit this "hauntingly beautiful" slice of South Africa.
Listening to Tales of an Environmental Tragedy
Set in the geographic regions of Eastern Cape, Western Cape and Northern Cape provinces, the expansive semi-arid lands of The Karoo encompass roughly 400,000 square kilometres – covering more than one-third of South Africa's landmass and making them larger than the size of Germany. Deriving their name from the Khosian (Indigenous South African) word for "lands of thirst", The Karoo remains best known for its lack of surface water, low rainfall and extremely volatile climates, making it one of the planet's most difficult environments for life to survive.
Despite its harsh and unforgiving climates, Sarah shares fond tales of a rather different and once abundant Karoo. Describing one night in the mid-90s, where the pair enjoyed fantastic Cabernet and spent countless hours listening to stories of The Karoo's historic Anglo-Zulu battles, Sarah explains that the two were woven deep tales of "the degradation of a once bountiful landscape, a hauntingly beautiful semi-desert region that until the 18th century had been home to the largest land-based migration on Earth: the springbok migration."
Accompanying the vast herds of yesteryear, the Tompkins listened further to accounts of the now-extinct black-maned Cape lion, cheetah and wild dog. While they learned that fences, firearms and farming had put paid to this spectacle, Sarah listened adoringly to the promise that "the land's irresistible soulfulness remained, along with the potential to revive some of its glorious past."
Purchasing Farmland in the Barren lands
Feeling incredibly moved and rather emotional about the stories of the Karoo's historic degradation, the Thomkins soon decided to travel to the small Eastern Cape village of Graaff-Reinet to view a farm that they heard was for sale. Having been born and raised in Johannesburg, Sarah recounts her childhood memories of driving through the "interminably dry and dusty" Karoo en route to many school holidays by the beach.
Remembering the hour-long trips through what had seemed like such a lifeless part of the world, Sarah recalls that despite feeling moved by stories of the land's great potential, she was certain there would be no chance that they'd "buy even one square inch of such a desolate place."
Placing memories to one side and feeling as though it would be rude to turn back, the Tompkins carried on with their travels and agreed to visit the farm. Reflecting that it had been a good rainfall year, Sarah describes the landscape as being totally different to how she remembered: " [the land was] green and lush and the mountains were a dramatic purple framing the azure skies." As the pair drove off the main road and up into the mountains, Sarah affirmed that they became smitten with the vast landscape – and so began their love affair with the Karoo.
After purchasing their first farm, known as Monkey Valley, Sarah and Mark chose to consult a local eminent ecologist to assist them with putting together the remainder of the farms that today form Samara's reserve.
Knowing the magnitude of the project lying before them, Sarah highlights that the two wanted to make sure that the land they secured was diverse and productive enough to support healthy wildlife populations and ecosystem services. As a result, despite encompassing just 67,000 acres, "Samara grew to comprise representative areas of five of South Africa's nine vegetation biomes, located on the westernmost tip of one of 36 Global Biodiversity Hotspots, with a variety of topographies ranging from 700m to 1,400 metres above sea level."
Upon learning that a key reason for the decline in the biodiversity and ecosystem health of the region was due to intensive farming and the unsustainable management of small livestock, the Tompkins decided to found Samara on the ethos of regenerating the land, with hopes to restore the health and resilience of the Karoo to the abundance the stories had told.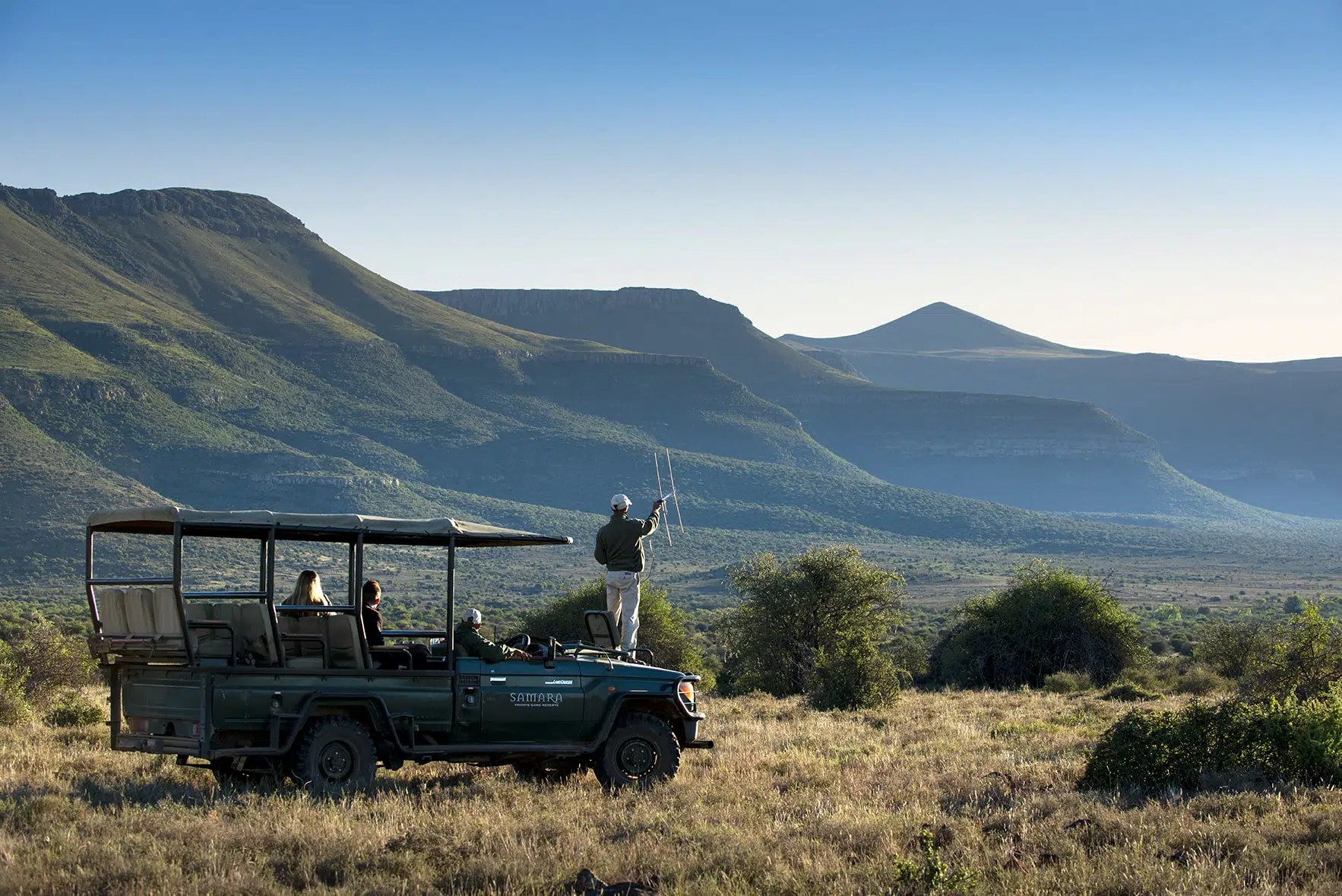 Sequestering Carbon with 'Spekboom'
During their twenty-five year restoring the Karoo, the Tompkins have established and run a wide variety of regeneration projects. Having recently read about their use of a carbon sequestering plant called "Spekboom", we could not help but ask Sarah to explain more about their use of what she describes as a "miracle plant" to assist their restoration.
A small succulent that's mainly found in Southern Africa, Sarah explains that "in optimal conditions, Spekboom can be as effective at sequestering carbon, hectare for hectare, as the Amazon rainforest – with one hectare of Spekboom thicket sequestering between 4 and 10 tonnes of carbon dioxide per annum". Also highly-effective when used to rehabilitate degraded landscapes, Sarah enlightens that as the plants roots bind the soil, they help to prevent it from being washed away in flash floods, "whilst the manner in which the plant grows fosters the development of rich topsoil and provides a beneficial environment for the growth of other plants".
Having consulted with expert botanists, Sarah continues to highlight that Samara reserve "contains almost 1,000 acres that could benefit from being planted with Spekboom", so they have set themselves the goal of planting 1 million over the next five years. To aid their project and promote awareness, the Tompkins also gift each of their guests a small Spekboom cutting for them to plant at Samara or take home.
Reintroducing wildlife to the Great Karoo
Since commencing their rewilding project in 1997, the Tompkins have also been able to reintroduce a total of sixteen mammal species to the reserve including zebra, springbok and lion. Reflecting on the reintroduction process, Sarah shares that her and Mark have always sought to align themselves with "the best available science due to the fragility of the semi-arid ecosystem, which entailed meticulous planning, guidance-seeking from zoologists and ecologists, and in some cases waiting for many years to reintroduce the most significant species". Guided by advice, for example, Sarah mentions how lions in particular took 22 years to be re-introduced since the reserve was first founded.
Recounting some of her favourite moments of wildlife return, Sarah highlights the beautiful and emotional release of elephants onto the reserve in 2017, "the first elephants to come back on to the land in approximately 150 years". She tells the story nostalgically, "translocated from another reserve, the elephants arrived in a large purpose-built truck, and my family and I stood on top of the truck as the elephants stepped into their new home… I have always loved elephants and to see these sentient creatures back on Samara, where they would have roamed centuries ago, was incredibly moving".
Aside from bringing joy to the Tompkins and guests of Samara, Sarah also explains that the elephants are performing an important ecological function just by being there. Calling these majestic animals "ecosystem engineers", she highlights that the elephants help promote the spread of grasslands by knocking down and feeding on trees and bushes, "while their dung is utilised for the humble dung beetle for food and shelter".
Aside from the elephants and lions, Sarah was also delighted to share more about the recent return of the leopard which she exclaims came back "of its very own accord!". Describing the event that took place in last April, Sarah explains that one of their guide and tracker teams had managed to spot a large male leopard whilst returning from a wilderness picnic with guests. Despite long knowing that the leopard had lived in the region, she highlights that these elusive Big Cats are incredibly rare to spot as they have long been persecuted by farmers due to their preying on livestock. While capturing occasional camera trap images of leopards over the years, Sarah was thrilled to elude that this was their first "real" sighting and believes that their return is a sure signal of their rewilding efforts.
Samara's Renowned Tracker Academy
Beyond their rewilding ventures, another exciting project that the Samara works on for its cultural and community efforts is its very own Tracker Academy. A training division of the South African College for Tourism, the Tracker Academy was both founded by and remains hosted at Samara, with an aim to promote the development of passionate African conservationists through the preservation of indigenous knowledge relating to tracking.
Taking the form of a 1-year course for 8 students at any one time, the training sees students spend 6 months at Samara, learning to track under the tutelage of one of South Africa's Master Trackers' – Karel "Pokkie" Benandi – before spending their remaining 6 months at another reserve in the world-famous Sabi Sands region.
Since the Academy's inception in 2010, Sarah proudly highlights that "approximately 95% of graduates have gone on to find full-time employment in the ecotourism, conservation and anti-poaching sectors", while their knowledge and expertise has been exported from Samara to areas as far-flung as Brazil, Rwanda and Chile.
Talking Regenerative Travel
When talking about the concept of regenerative travel, we asked Sarah to describe what had inspired the couple to open a luxury safari lodge and to explain their take on the possibilities of travel for our planet's restoration today.
Recalling that at the time of opening, the concept of "regenerative travel was never part of the lingua franca", Sarah explains that Samara had originally meant to be a private family retreat. Yet as years went by, she highlights that the two came to realise that their regenerating mission "could be much more powerful if we opened the reserve up to the public – not simply through the flow of visitors from around the world, but also by providing opportunities for local employment through tourism and nurturing synergistic relationships with like-minded individuals and organisations with a common goal."
Having opened their safari lodges in 2005, Sarah is firm about her sense that "sustainable travel" does not go far enough: "the notion of "sustainable travel" may be well-intentioned, but ultimately in our opinion does not go far enough and leaves itself open to greenwashing. For an ambitious purpose-driven company, why stop at "do no harm" when a whole world of possibilities exists in the realm of "create net good"?"
Concluding that the tourism industry has both "an opportunity and a responsibility to lead the way in developing models and systems for actively regenerating the places we hold dear", Sarah believes that adopting a regenerative mindset, in any business, is the only practicable and equitable way of navigating the crises facing people and the planet.
What Makes Samara So Special
For all types of travellers, Sarah is keen to share that Samara presents an infinite array of unique opportunities. Offering a holiday with meaning in a heart-stoppingly beautiful setting, as well as the opportunity to contribute to a pioneering conservation journey, Sarah lovingly explains that the magic of the Great Karoo in general, and Samara in particular, "is the way in which this landscape of infinite horizons helps to recalibrate the frantic modern mindset." For Sarah, immersing oneself in Samara's heart-lifting scenery is to place everything back into perspective and help one realise that "we are a part of nature, not apart".
By inviting their guests to go behind the scenes of Samara's journey, the Thomkins also offer an edifying insight into conservation in action. Just by visiting alone, Sarah affirms that guests enable the team to continue their work, while more active guest contributions take their involvement in Samara's journey a step further.
From land rehabilitation and wildlife work to excursions with ecologists and fireside chats about their vision and progress, Samara aims for every guest to depart reconnected with what's truly important and empowered by the healing energy of the mystical Karoo.