Asia is home to eco-resorts located in a plethora of wondrous landscapes including tropical rainforests, serene beaches, and high mountain tops. Despite the remaining travel restrictions to many countries in Asia for international travelers, resorts and hotels will be re-opening their doors to welcome guests in the coming months. Though the thought of traveling after the COVID-19 pandemic seems far away, the circumstances reinforce the importance of social and environmental impact to the everyday traveler. The pandemic has caused devastation in our health and economic systems and a shortage of authentic human connection.
"Sustainable travel is more than just offsetting your carbon footprint for flights, it's about being a conscious consumer and understanding the impact your tourism dollar makes on the destination you are traveling to. Post-COVID-19, travelers will be more aware of the social and economic impact the pandemic has put upon many destinations and by selectively choosing which companies to support, you contribute to rebuilding the livelihoods that depend on tourism," says co-founder Amanda Ho of Regenerative Resorts. "By booking eco-resorts that are dedicated to environmental and social impact like Regenerative Resorts, you can be assured you are giving back to the local community that the property uplifts."
Imagine yourself lounging in an overwater bungalow on the Anambas Islands of Indonesia, listening to the crystal-clear water lapping beneath your feet – or standing outside on your personal cottage patio, perched high in the majestic mountains of Nepal, feeling the cold air against your skin – or being curled-up with your significant other on the banks of a serene river in South East Asia while tropical birds and wildlife coexist peacefully around you. Here are the top seven Regenerative Resorts in Asia that you should add to your bucket list.
With serene beaches set in a tropical island paradise, this private island getaway is the perfect fit for those who want to experience seclusion as it's finest. Located in the remote Anambas Islands of Indonesia, this sanctuary is relatively unknown to mainstream tourists. Also built on a previously uninhabited marine conservation, the Bawah Reserve is home to turquoise waters and thriving coral reefs. You have the option to upgrade to one of their thirty-five overwater bungalows, allowing for an exclusive experience. Choose from activities like kayaking, snorkeling, sailing, and treks through the rainforest. After a thrilling adventure, dine on delicious local-cuisine from one of the reserves four dining establishments or kick-back with a picnic, dining on a private beach, or a cinema night under the stars.

The Bawah Reserve uses a system of efforts to improve and sustain biodiversity while helping the local community. Founded in April 2018, the Bawah Reserve Foundation (BAF) works to preserve and regenerate this biodiverse region, while educating guests of Bawah Reserve about conservation and the true meaning of eco-luxury. The reserve also takes other initiatives such as providing ocean-friendly sunscreen, composting leftover food, mulched paper, and using solar power to heat water, to work towards a healthier and better future. The reserve's environmental initiative is taken even further by it's banning of fishing and anchoring to protect its rich marine life.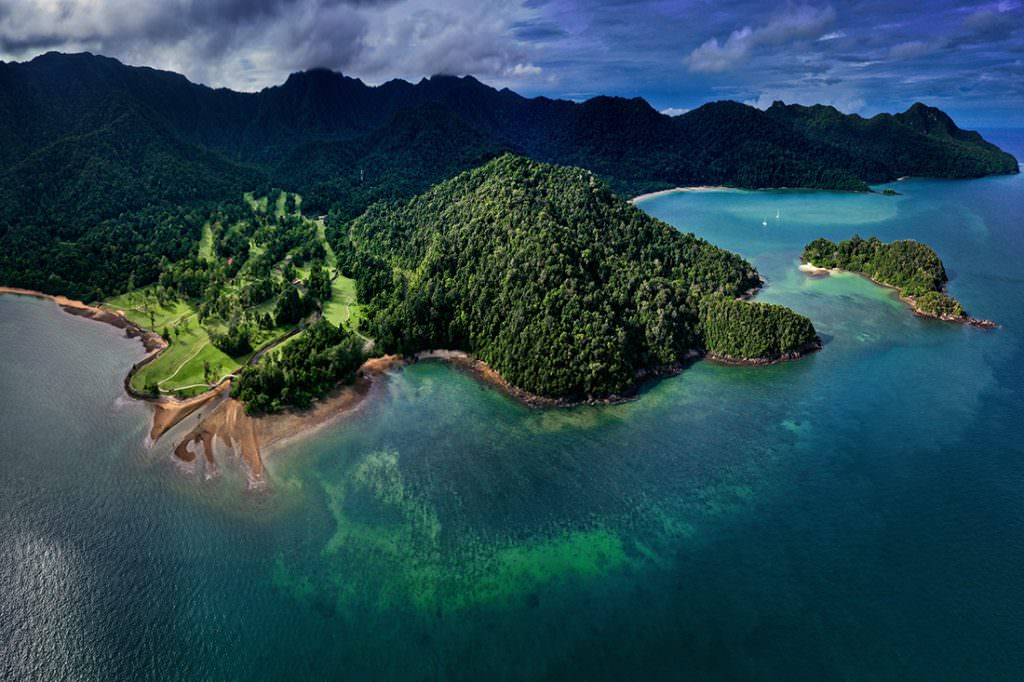 Experience a mystical 10-million-year-old rainforest nestled in a lush, tropical forest of Langkawi, Malaysia. Not only is Langkawi home to ancient rainforest, but the resort sits on Datai Bay, which as listed on National Geographic, is one of the top ten beaches in the world. From rooms and suites located in the main building close to all the amenities to villas tucked in the depth of mother nature's rainforest, to open and airy beach villas on the pristine white-sand beach of Datai Bay, The Datai Langkawi has room for everyone. Nestled between two different habitats, the rainforest, and the ocean, guests can nurture their minds, bodies, and spirits, in a diverse environment.

Led by Irshad Mobarak, the resort's head-naturalists, the Datai Pledge is to "safeguard the island's unique biodiversity, as well as reducing the harmful effects of environmental and human impact." From reducing pollution through the use of natural resources to addressing threats and imbalances in the marine ecosystem, protecting and restoring the natural heritage of the island, and educating youth by promoting awareness of sustainability issues, the resort incorporates many different programs that help protect the island's history and character.

This barefoot luxury resort consists of 10 luxurious private villas where guests can "leave the real world behind." Located in Siargao, Philippines, home to white-sand beaches, tropical jungles, underground caves, and the infamous Cloud 9 barreling wave, Nay Palad Hideaway is an ocean lover's dream.
Part of the "Long Run Initiative," which aims to create sustainable luxury experiences using the 4 C's – conservation, community, culture, and commerce, Nay Palad has made positive social impacts from the ground up, hiring local Filipino craftsmen and sourcing materials locally to construct the exquisite resort. The resort also gathers their food locally by working with local organic farms, using ingredients from their own vegetable garden, and providing guests with a fresh catch of the day. To give guests a truly authentic experience, the talented chefs at Nay Palad Hideaway create surprising versions of national recipes.

Located on the last great wilderness area in Cambodia, this extravagant 800-acre camp takes "glamping to a whole new level," with opulent safari-style tents set on 1.5 kilometers of rivers and waterfalls — a truly unbelievable experience. Whether you're an experienced camper or a beginner, Shinta Mani Wild has an activity for everyone. Take the outdoors to the next level by participating in one of the many activities included such as a butterfly walk, zip-lining, jungle trekking, mountain biking, kayaking, bird watching, and more.

Resort designer and owner, Bill Bensley identified this vast area of unprotected wildlife connecting the Bokor National Park with Kirirom National Park and set out on a mission to protect it from poaching, logging, and mining. Shinta Mani Wild takes great efforts to protect wildlife with Wildlife Alliance, a non-profit organization founded in 1995 by Suwanna Gauntlett. The camp features a Wildlife ranger station, where guests have the opportunity to get a close look into the day of an anti-poaching wildlife ranger. The on-site rangers arrest poachers and loggers to prevent forest and wildlife degradation while maintaining the natural habitat of this last-standing area of the great wilderness.

Due to society's fast-paced environment, many stressed-out urbanites need a place to relax and destress. This award-winning hotel allows guests to get away from it all by integrating a true wellness lifestyle. The award-winning resort's focus is to incorporate "high impact wellness strategies aimed at supporting individuals, couples, and organizations enduring life transitions and transformation," as stated on the resort's website. Take the leap of faith, destress, and rejuvenate at Fivelements Bali. Providing an authentic experience rooted in the Balinese culture, this wellness retreat works with Balinese healers who use healing practices that have been passed down to them for centuries through lineage.

On a jewel-shaped island, the Golden Ratio has inspired every aspect of the aesthetically-pleasing Tri Lanka resort, which blends modern geometrics into the lush environment of Sri Lanka. Dedicated to the natural patterns of mother nature, the resort design uses local materials to create designs inspired by the curling and unfurling of plants in the natural environment. Enjoy a view overlooking the majestic Koggala Lake, home to a variety of local birds and wildlife, then take a trip to Cinnamon Island to learn how the delicious sweet spice travels from seed to table.
Tri Lanka uses several environmental initiatives to ensure they are making a regenerative impact. To incorporate the natural environment into a modern space, this resort was built using local materials and designed with living walls, green roofs, and local flora. The Tri Lanka resort also plants indigenous trees and plants on and around the stylish property to reduce habitat degradation and takes environmental initiative with a shoreline protection program which helps prevent erosion.
Experience true tranquility perched 1,000 feet in the mountains of Pokhara Valley, Nepal. Tiger Mountain Lodge Pokhara offers hand-cut stone cottages that are furnished and designed using Tibetan art and decor pieces — allowing guests to fully immerse themselves in the culture within the walls of their rooms. This Himalayan lodge is a spiritual retreat unlike no other.
This magical mountain retreat is taking a variety of initiatives to make a regenerative impact both environmentally and socially. With 87% of the staff team hired locally, the lodge does the most to incorporate community engagement into its mission. They have partnerships with local schools in improving facilities, teaching skills, and providing school supplies through donations. Providing a truly authentic experience and sourcing food locally, the lodge usually only locally grown organic ingredients to chef-up the delicious Nepali culture and cuisine.