Adventure calling? Dare to traverse ancient jungles, hike and bike steep mountain peaks, kayak down stunning river routes, and dive into the magic of protected wildlife to discover nature in her purest state, with adventure tours at Regenerative Resorts.
Passionate local guides are unrivaled experts and share an incredible wealth of knowledge for you to take home, from hidden histories to unsuspecting medicinal plants. Witness rare animals and awe-inspiring landscapes in unspoiled glory, or visit villages and communities to soak in the local colourful culture. After a day of rainforest trekking or safari roaming, unwind in regenerative luxury with relaxing spa services on offer and wonderful locally sourced foods to rejuvenate. Embarking on a bucket list trip of a lifetime means catering your experience to fulfill every bold dream, and these adventure tour destinations reach above and beyond to make this an unforgettably special story. An intrepid journey with a Regenerative Resort awaits you.
1) Horseback Riding at Futangue Hotel & Spa in Chile
Collaborating with the wilderness of Patagonian Andes, Futangue Hotel & Spa is a cozy and private base of comfort to explore the natural paradise at your fingertips. Inspired by national artists and Mapuche culture, the hotel dances with ethnic fabrics and colourful textiles. Come alive with local traditions and natural heritage woven throughout. The hotel's beautiful family-run private nature reserve, on the shores of Lake Ranco, is an open invitation for horseback riding through flower adorned meadows, expedition and whitewater kayaking in Rininahue River, mountain biking along lakes and up high peaks, and trekking across an abundance of wild routes. For a hike of historic significance, trek the Darwin trail and identify the local wildlife that inspired him.
Rates start at $205 per night. Schedule a complimentary travel consultation with Regenerative Travel here to learn more about Futangue Hotel & Spa.
2) Elephant Safaris at Tiger Tops in Nepal
Live on the wild side along Chitwan National Park's edge and opt for a safari tent at Tharu Lodge, offering an unrivalled, intimate glimpse into the land of rare mammals like the Bengal tiger. A World Heritage Site, Chitwan immerses the lodge in lush forest with a view of stunning Terai lowlands, a wildlife haven. Join elephants on their daily walk and watch them play in the mud for an unforgettable sundown. Karnali Lodge stands in Bardia National Park, an exciting world away from familiarity, utterly off the beaten path. Explore the area with safaris by jeep, foot or boat with an expert naturalist on hand to bring the journey to life, and you might just spot a svelte leopard or Asiatic elephant. Visit local communities with a guided village tour, and experience the alluring mystery of the peaceful jungle in this once in a lifetime trip.
Rates start at $170 per night at Tharu Lodge, $240 per night at Karnali Lodge. Schedule a complimentary travel consultation with Regenerative Travel here to learn more about Tharu Lodge or Karnali Lodge.
3) River Cruising at African Bush Camps in Zimbabwe
The epitome of a wild escape, a stay in Zimbabwe offers unparalleled encounters with free roaming animals and an authentic exploration of Africa's sweeping landscape. With African Bush Camps, luxury safari rooms provide a sustainably designed and comfortable base in between your adventure tours. On the banks of the ancient Zambezi river lies the exclusively located Nyamatusi Camp, in one of the most remote parts of the continent where elephants frequent. Dip into the pool to cool off after a day on a game drive, exciting canoe or walking safari, or catch-and-release fishing trip. Sunset cruising, boating, cultural visits and bird watching are also on offer from Somalisa Camp and Bumi Hills Safari Camp, a captivating wilderness overlooking sparkling Lake Kariba. Witness the vast expanse of pristine Africa with African Bush Camps, who educate and empower local communities, collaborating with many organisations on issues from food security to conservation.
Rates start at $520 per night. Schedule a complimentary travel consultation with Regenerative Travel here to learn more about African Bush Camps.
4) Reef & Rainforest Adventure at Hamanasi in Belize
Unpack everyday life in an elegant eco-luxury room to begin uncovering Belizean barrier reef and rainforest adventure tours with Hamanasi Resort. To craft your perfect trip, the dedicated Adventure Centre is sure to tailor every exploration to your interests and needs. You can dive into crystal Caribbean waters to meet thriving and colourful marine ecosystems, trek jungle trails to find secluded waterfalls and encounter a host of exotic wildlife, or visit Cockscomb Basin Wildlife Sanctuary – the world's one and only jaguar preserve – to catch a glimpse of these amazing creatures. Rediscovering magic is effortless with a tour of jungle-hidden Mayan pyramids and panoramic views in a day retracing history. Hamanasi's regenerative impact includes a weekly Green Hour talk for guests, regenerating coastal forests, and supporting Nature Conservancy Belize.
Rates start at $399 per night. Schedule a complimentary travel consultation with Regenerative Travel here to learn more about Hamanasi Resort.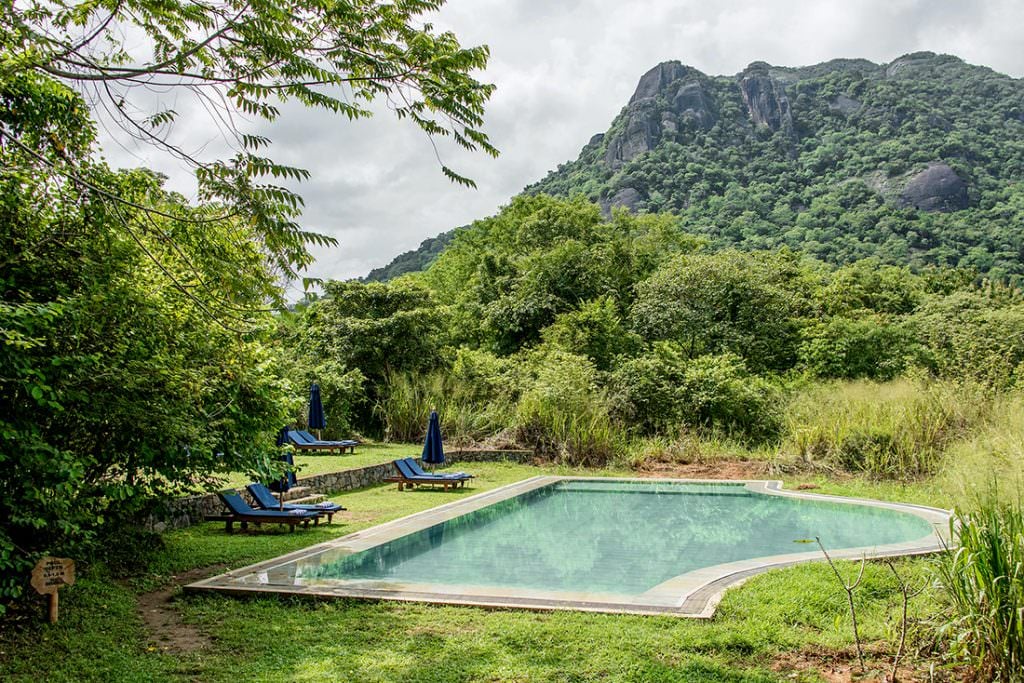 5) Trekking at Gal Oya Lodge in Sri Lanka
Gal Oya National Park, one of Sri Lanka's most remote wilderness areas, hosts this eco-chic lodge on 20 acres of wild, private jungle. A recently built wildlife training and research facility works with local conservationists to help protect wildlife on this ancient land, alive with some of earth's richest biodiversity and range of wildlife species. The thrilling opportunity for an Asian elephant sighting on the country's largest lake, whilst on a unique boat safari, is one simply not to be missed. Sri Lankan culture is embodied in luxury bungalows sustainably designed with the character of rural villages, using local techniques and natural materials, with tables and chairs crafted by village craftsmen. Neighbouring the indigenous Vedda peoples, a village chief may honour guests with a guided walk through the forests, filled with enthralling stories, history and knowledge. Other adventure tours include mountain treks, jeep safaris, bicycle tours, bird walks and a jungle cooking course.
Rates start at $204 per night. Schedule a complimentary travel consultation with Regenerative Travel here to learn more about Gal Olya Lodge.