We are proud to welcome four exceptional new members to the Regenerative Hotels™ community. Our new hotel members – Basata Ecolodge (Egypt), Emboo River (Kenya), Ngalung Kalla (Indonesia), and Nimali Tarangire (Tanzania) – join an impressive roster of resorts selectively chosen for their dedication to the highest levels of social and environmental impact.
Regenerative action and initiatives from the new members range from partnering with the Kenyan government to ensure that the Maasai Mara achieves its goal of carbon neutrality by 2030, to teaching permaculture courses on Sumba Island in Indonesia.
Regenerative Commitments: Empowering local Bedouin community members by only working with Bedouin guides to provide sustainable employment opportunities and funding a kindergarten for Bedouin children that also converts into a training center for Bedouin women. Honoring a sense of place with all huts and chalets built using natural materials, in harmony with the South Sinai setting.
Experience Offering: Escapism among historic desert mountains and on the shores of the Red Sea. Snorkel and kayak opportunities to explore the pristine marine world of the Red Sea. Hiking in the South Sinai mountains to view ancient monuments.
Tucked between two desert hills and overlooking the soothing Red Sea in South Sinai, Egypt, Basata Ecolodge values simplicity and respect for its surrounding environment and native Bedouin culture above all else. Founded as an antidote to the exhausting rat race of life in overstimulating cities like Cairo, Basata invites visitors to switch off and reconnect with nature. 20 adobe chalets and bamboo huts sit on the shores of the Red Sea, carefully constructed to ensure the sea breeze provides welcome ventilation in warm months.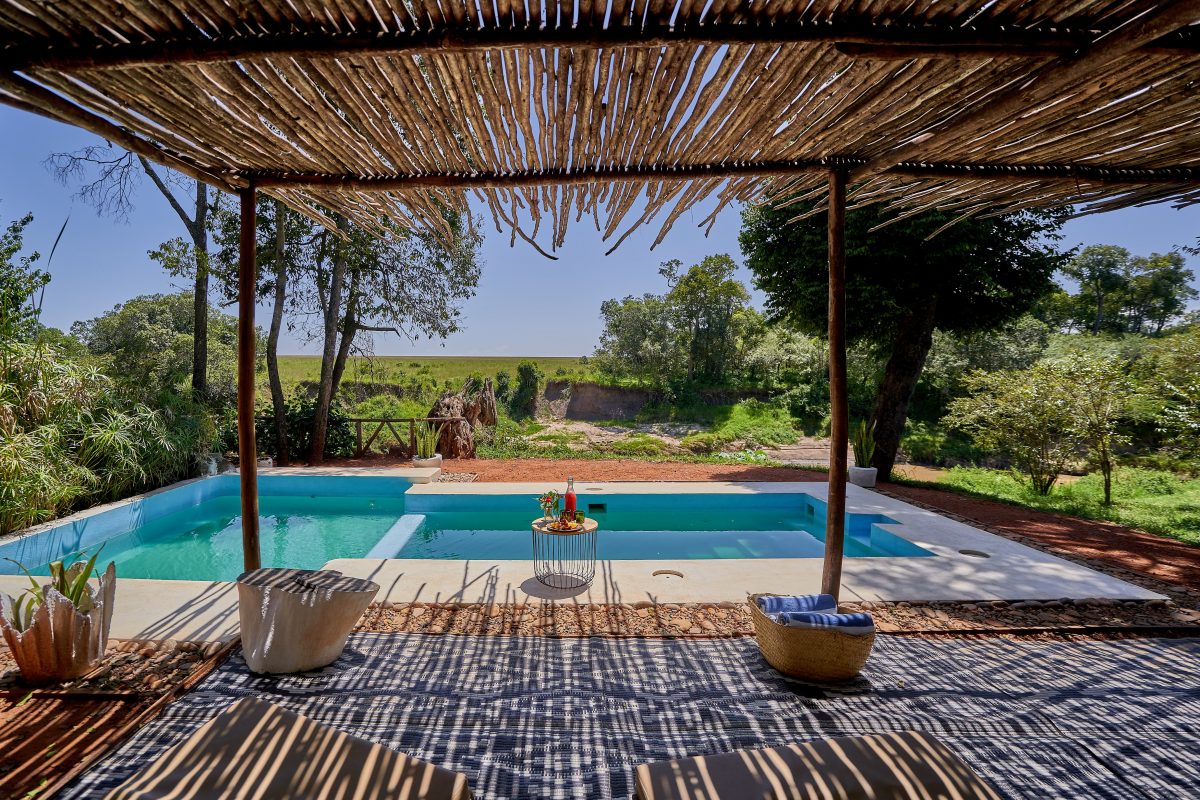 Regenerative Commitments: Reducing energy consumption and environmental impact by harnessing solar power for 100% of all electricity needs and converting all food waste into biogas used for cooking and as fertilizer at the on-site farm. Thanks to its fleet of entirely electric safari vehicles, Emboo River emits no emissions or noise during its safari experiences.
Experience Offering: Seclusion and adventure in stunning Maasai Mara wilderness. Horseback rides and balloon safaris offer alternative ways to spot the magnificent wildlife of the Great Migration from a different perspective. Bush walks in the Maasai Mara National Reserve to learn about the important history and culture of the Maasai Mara.
Located in the majestic Maasai Mara National Reserve in Kenya, Emboo River offers a slice of heaven amidst the wilderness. Home to the Great Migration and operating in harmony with nature, Emboo River takes inspiration for everything it does from the Maasai saying "Mataramat enkop pee eramat iyook", meaning "If you take care of Nature, Nature will take care of you". The luxurious River Rooms and Suites all offer floor-to-ceiling views of the river and are adorned with furnishings and art created by local artisans.
Regenerative Commitments: Protecting marine ecosystems and minimizing environmental impact by establishing 5 hectares of marine protected area in their local bay that adheres entirely to Locally Managed Marine Area standards and guidelines. Reducing waste by building extensive rainwater catchment and storage capabilities, use of vermicomposting practices and scrap wood used for the on-site pizza oven and staff cooking fire.
Experience Offering: Complete nature immersion on a secluded area of Sumba island in Indonesia. Surfing spectacular waves surrounding the island and catching your own dinner as part of a sport fishing expedition to fish only sustainable species. Hiking to impressive waterfalls around the island and soaking up views of nature including several bird species and rugged coastlines.
The idyllic Ngalung Kalla Retreat sits on the southwest coast of Indonesia's spectacular Sumba island. It spans 250 hectares of oceanfront, biodiverse nature and offers the possibility of disconnecting from more hectic, urban ways of life. The retreat consists of beautifully designed bungalows, an oceanfront restaurant, yoga studio, refreshing pool and plenty of beaches to enjoy. A surfer's haven, the retreat also offers thoughtful courses including permaculture practices, natural building, surf coaching, and meditation.



Nimali Tarangire

– Tarangire National Park, Tanzania
Regenerative Commitments: Minimizing energy consumption by operating 100% on solar including solar water pumps, heaters and fridges. Reducing waste and environmental impact by implementing a no plastic policy at the camp.
Experience Offering: Iconic views and exploration opportunities surrounded by the spectacular wilderness and wildlife of the Tarangire National Park. Bush dining experiences offer exceptional gastronomy to be enjoyed under the stars of the savannah. Hot air balloon safaris provide an unforgettable experience and the opportunity to view the private wilderness concession from a different perspective.
Nimali Tarangire provides luxury and sanctuary in the exceptional wilderness of a 1,400-acre private concession that borders the Tarangire National Park. This boutique camp is beautifully designed with contemporary and organic decor. Wildlife can be spotted from the lounge and dining areas offering magnificent views over the plains and the swimming pool overlooking the waterhole is another place to catch sight of creatures roaming free. Combining elegance with privacy in the wilderness, Nimali Tarangire camp offers guests the opportunity to reconnect with nature and appreciate the tranquility of the African bush.
Book a stay with exclusive member perks and $99 USD travel credit on stays of 3-nights or more, with our

Regenerative Travel+ Membership