Instagram and TikTok have a lot to answer for. Namely, for encouraging us all to visit certain places and inspiring us to take specific photos in particular spots. In small, considered quantities, this can be positive and shed light on deserving destinations that tourists wouldn't otherwise consider visiting.
However, unfortunately in many cases, too many of us are encouraged to visit a specific set of destinations at the same time. This results in them becoming overwhelmed and an uncontrolled influx of humans can be extremely damaging to the place's local wildlife, the community, and its economy as a whole.
This is why we wanted to look at some exceptional regenerative properties doing important work to conserve, preserve and regenerate their local ecosystems. We want to shed a light on these incredible places from Italy to Mexico and Tanzania to Nepal. We suggest that they would be a much better alternative to visiting traditionally overwhelmed and overtouristed destinations. We're not saying to avoid visiting the other destinations entirely, just that it's important to always consider our impact and choose our destinations accordingly. As travelers we must take responsibility for how we plan our trips and aim for more positively impactful journeys.
Tuscany instead of Venice, Italy
Yes, Northern Italy is incredibly beautiful but no, you don't have to visit Venice to make it an unforgettable trip.
In an attempt to tackle the overtourism that Venice is facing, which is outraging locals and damaging infrastructure, the city has decided to introduce a 'tourist tax' of €10 per day starting in 2023. The primary cause of overtourism in Venice is the blink-and-they're-gone daytrippers who hop off cruise ships to whizz around the city and disappear again before dusk; the tax is aimed at curtailing these kinds of visitors.
If you want an Italian adventure that avoids the crowds and doesn't infuriate local residents, it'd be better to plan a trip to the lush hills of Tuscany. Accessible by a slow and thoughtful train journey from London or Paris and close to Italian icons like Milan, Siena and Florence, Oasy Hotel sits in the WWF-protected Dynamo Oasis Nature Reserve. It places great emphasis on protecting wildlife, immersing guests in natural surroundings, and providing carefully curated farm-to-table meals from its biodynamic farm, with unparalleled views out to the majestic Apennine Mountains.
The reserve offers 16 lodges, all built respecting the natural environment and intended to let in floods of natural light. Try your hand at cheesemaking, forays into mushroom foraging, horseback riding expeditions, kayaking and paddle boarding, and exploring the 2,500-acre nature reserve by electric bicycle. Oasy Hotel offers an Italian adventure that showcases the real Tuscany not featured in guidebooks, one in keeping with the local community and natural environment, a far cry from Venice's saturated streets.
Juluchuca instead of Tulum, Mexico
Once a calm and little-visited fishing village on Mexico's Yucatán peninsula, Tulum is no longer a well-kept secret. A stream of visitors has caused overpopulation issues for the town, which now suffers from walls of seaweed on its beaches and shorefront diesel generators chugging away to create electricity for the air conditioning and other luxurious amenities that visitors demand.
In 2019, Tulum had 40,000 residents and this is expected to grow to 200,000 by 2030. Taxi drivers have started to ferry visitors around without official taxi meters so they can then fabricate high fare prices at the end of the ride for tourists who don't know what the real fare should be. The local government has spent USD $20 million to tackle the seaweed problem by installing nets to try and capture the algae. Hotels have deployed staff members to shovel seaweed off the beaches and into wheelbarrows or bury it in the sand.
Tulum is struggling to keep up with its own popularity. If it's a rugged, unspoiled Mexican beach you're seeking, a spectacular alternative to Tulum is Playa Viva boutique hotel in Juluchuca on Mexico's Pacific coast. The hotel sits on a mile of private beach, surrounded by lush greenery and free from hordes of seaweed.
Playa Viva has its own sea turtle sanctuary so guests can experience the wonder of watching baby sea turtles hatch and take their very first steps toward the ocean. Permaculture is also a prominent feature on the property where fresh produce like coconuts, tamarind, mangos, cashews, cactus and tomatoes are grown. Daily yoga and meditation classes are also offered so visitors can really switch off and connect with nature without the disturbance of a constant generator groan.
Pokhara, Nepal instead of Agra, India
Agra's most famous attraction is the world-famous Taj Mahal mausoleum. Unless you have superior photo editing skills, it's unlikely that you'll be able to capture an Instagram-worthy shot outside the Taj Mahal without several thousand other visitors featuring in it.
The UNESCO World Heritage Site is certainly a wonderful place but since it attracts up to 50,000 tourists on a daily basis, the destination is suffering the effects of overtourism. In an attempt to curb the overwhelming number of visitors the site receives, local authorities have imposed a 3-hour time limit for visits. For anyone who overstays and exceeds the 3 hours, they will be obliged to pay the equivalent of their ticket price again as a fine.
To avoid the crowds but still reap the benefits of South Asia's immense beauty, we suggest heading to lakefront Pokhara and staying at the Tiger Mountain Pokhara Lodge in Central Nepal. Perched atop a mountain and overlooking the Himalayas, there is no better place to tap into some tranquility and take in the history and nature of Nepal.
The lodge features hand-cut stone cottage-style rooms decorated with Tibetan rugs and original artwork. From mesmerizing hikes to butterfly monitoring and meditation sessions overlooking the spectacular Annapurna mountain range, Tiger Mountain Pokhara Lodge offers all the awe and wonder of Agra's Taj Mahal without the overbearing crowds.
Pemba Island, Tanzania instead of the Great Barrier Reef, Australia
Australia's Great Barrier Reef stretches 1,400 miles (2,300 kilometers) along the country's northeast coast and is known as the world's largest coral reef system. It is an exceptional place doing its best as a destination to preserve and regenerate its coral population.
However, rising ocean temperatures have caused high levels of coral bleaching and the reef has lost half of its coral since 1995. UNESCO is even recommending that the Great Barrier Reef be added to its list of sites in danger in a bid to protect the area and prevent further degradation.
Recent progress has been achieved, with the Great Barrier Reef now recording record amounts of coral. The problem is, the coral in this area is still extremely vulnerable and so overtourism would be devastating. If you are planning on visiting the Great Barrier Reef, make sure to plan your journey with one of the region's High Standard Tourism Operators who work in partnership with the Great Barrier Reef Marine Park Authority to monitor the reef.
For an alternative destination to witness ocean regeneration and enjoy exceptional marine life, head to The Manta Resort on Pemba Island in Tanzania. This 13-room boutique hotel sits on a private island surrounded by flourishing coral and within an ocean floor anomaly known as 'the blue hole'.
The Manta Resort works consciously to preserve and restore marine life and its efforts alongside the Kwanini Foundation have seen the creation of the Kwanini Marine Protected Area and Mnarani Water Pipeline. They have seen fish populations restored and coral populations far from the bleached tragedies of the Great Barrier Reef. The resort's showstopper is its Underwater Room where visitors can wake up immersed in the Big Blue and observe marine life all through the night.
Washington DC instead of New York City, USA
New York is the city that never sleeps but it's also the city whose cost of living continues to soar, largely because of its status as a must-visit destination for most of the world.
An urban icon no doubt, NYC is in many ways a victim of its own success; it attracts so many visitors that sites like Times Square and the Brooklyn Bridge are often heaving with humans energized by their selfie sticks and a desire to get the perfect shot for their social media feed.
To experience American city life in a more unique way, we suggest heading to Washington DC and holing up at the impressive Eaton DC. An urban concept hotel pioneering social change, Eaton DC offers a cinema, library, yoga studio, radio station, speakeasy, rooftop bar, co-working space and an art gallery.
On its way to becoming a B Corp, this elegant hotel takes pride in its diversity and openness. Set in the city's historic Shaw neighborhood, it's the perfect base for exploring the cultural vibrancy of the United States' political capital.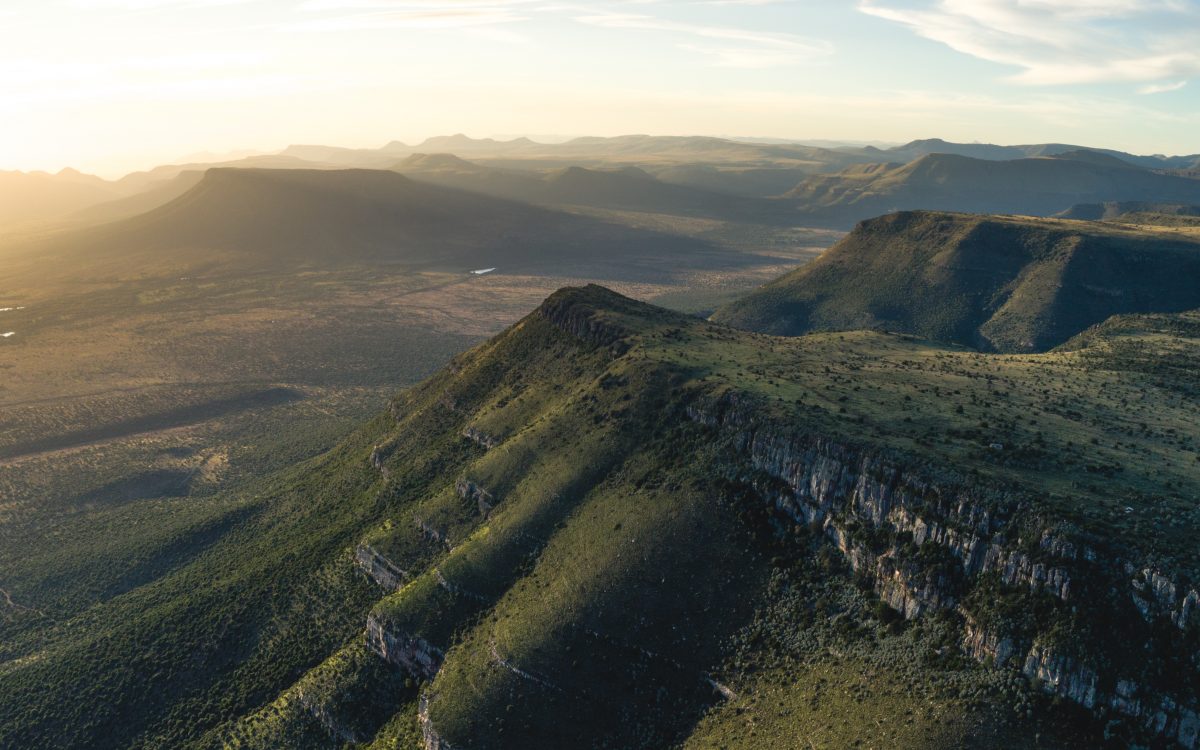 The Great Karoo instead of Kruger National Park, South Africa
South Africa is a particularly idyllic destination for safari-goers. Of course, there is the opportunity to observe the Big Five undisturbed in their natural habitat. But more than that, certain areas of South Africa have more land dedicated to specific reserves where in other safari spots, camps are more closely packed together.
The Kruger National Park is a particularly renowned safari destination, with 1.8 million visitors making it there in 2019. However, signs of overtourism have led to concerns over issues such as the speed limit of vehicles within the park and the number of photos being uploaded on social media of endangered animals; the fear is that this could help and encourage poachers.
Far removed from the concerns of overtourism, a particularly expansive spot for exploring South African wildlife and wilderness is at the Samara Karoo Reserve in the Great Karoo. Covering 67,000 acres of protected nature and spanning five biomes, Samara Karoo works hard to rewild its reserve's landscape and practices regenerative agriculture.
Visitors can learn to track cheetahs like an expert or enjoy a night under the stars in a luxurious four-poster bed, all safe in the knowledge that the surrounding wilderness is meticulously cared for and conserved. A dream worthy spot for taking in the wonders of South Africa's picturesque landscapes and creatures.
To learn more about our member hotels or to book a trip with Regenerative Travel and receive member exclusives, click here